EDIT MAIN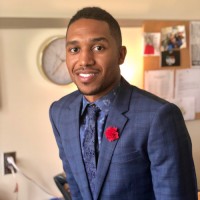 Mr. Matthew Paylor
Matthew L. Paylor, II is the son of two retired principals. Mr. Paylor has been an avid reader and traveler since childhood. He attended Immaculata Catholic School for ten years. One of his favorite hobbies is collecting basketball sneakers. Matthew matriculated at NCCU where he graduated with honors in Early Childhood Education. He earned his graduate degree in School Administration from the University of North Carolina - Chapel Hill.
Mr. Paylor was appointed assistant principal at Seawell Elementary, a high-performing school with 525 pre-K through fifth-grade students, in 2018. Prior to entering school administration, Matthew taught at Oak Grove Elementary in Durham Public Schools. He has served on the School Improvement Team, RTI, MTSS, EOG Tutoring, and various other leadership committees. Also, Matthew is a supervisor for the Teen Program at the Holton Career and Resource Center in Durham. In 2017, Spectacular Magazine honored Matthew Paylor as The Man of the Year in the Emerging Leader Category.
His passion is the ability to guide effective instruction via data, rigor, relevance, and relationships. Another area of focus is mentoring a young man who is a freshman at North Carolina Agricultural and Technical State University in Greensboro, NC for over a decade. In Matthew's leisure time he enjoys basketball. He attended Coach K's Basketball Camp as a youngster. Besides reading, traveling over holidays and vacation time is his passion. He has toured parts of Spain, Greece, France, Japan, China, Puerto Rico, Jamaica, and Mexico.
Matthew has a brother who graduated from Guilford College and a sister who graduated from Johnson & Wales University.
He is excited to join the community, team, and family of John Trumbull Primary School! He is most excited about forming genuine relationships with the students and families at the school.
Matthew's vision statement is: "Instill the efficacy of growth for students and adults."
New Assistant Principal Named at JTPS