Friday, November 5, 2021
Dear Watertown Public Schools Families and Faculty,
Now that Covid rates continue to decrease/plateau, guidance on quarantine and contact tracing is updated. Yesterday, Commissioner Russell-Tucker joined the Governor and DPH Commissioner Juthani to (Click for press release) announce "Screen and Stay" , which will allow students and school staff who are, under certain circumstances, identified as close contacts to a known COVID-19 case but who are not yet fully vaccinated to remain in school if they were wearing masks and don't develop symptoms. Operational detailed protocols for "Screen and Stay" will be determined in the coming week. Once complete, all WPS families and faculty will be notified directly from the Superintendent's office.
Vaccine Clinics for Students Ages 5-11
In addition, on Tuesday, November 2nd, the Pfizer COVID-19 vaccine was approved for children ages 5-11. Our local health department, Torrington Area Health District (TAHD) is working with Hartford Healthcare / Charlotte Hungerford hospital to set up clinics for the 5+ population within our health district. In addition, TAHD will also provide booster clinics in the coming weeks. Once all of the details are ironed out, all WPS families and faculty will be notified.
And...Don't forget to 'Fall Back' by turning your clocks back one hour this Sunday Nov. 7!
Have a wonderful weekend everyone.
Sincerely,
Dr. V
Happenings and Useful Information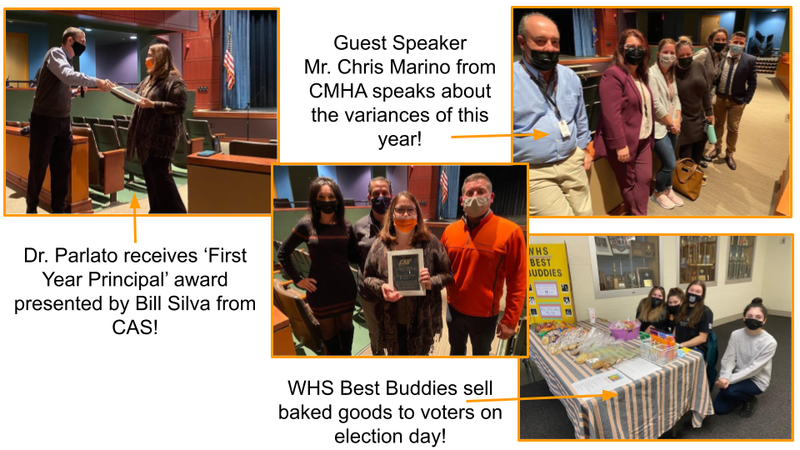 Board of Education
We welcome our newly elected Board of Education Members to the district! The next Board of Education Meeting will be held on Monday, November 8, 2021 at 7:30PM in the WHS Lecture Hall (Agenda Here). A special meeting will be held at 7PM (Agenda Here) to swear in all new Board members.
Diwali
Yesterday marked the celebration of Diwali. Typically celebrated for five days, Diwali is one of the biggest celebrations of the year for Hindus. On the third day, the main celebration is called the "Festival of Lights"! Diwali celebrations are beautiful spectacles often filled with a colorful array of fireworks to light up the sky. Small 'diyas' (clay oil lamps) along with candles are lit up all around homes and gifts are exchanged between loved ones to mark this special occasion. To all the Hindu members of our community, Happy Diwali!
Diwali - National Geographic for Kids / Celebrating Diwali a Festival of Lights
Dates to Remember
November 6 - WHS Homecoming
November 11 - No School, Veterans Day
November 17, 18, 22 - Early Dismissal Day for Parent Teacher Conferences
November 24 - Early Dismissal Day
November 25 & 26 - Thanksgiving break for all employees and students
Health and Safety
Best Wishes
I would like to congratulate Mr. Faiella, our Facilities Manager and Mr. Jeff Turner, Director of Technology on their next career steps. Mr. Faiella will transition at the end of next week to his new position with C.E.S. and Mr. Turner will remain with us into the new year to create a smooth transition for the WPS. Thank you.
Quote of the Week
"If you are brave enough to say goodbye, life will reward you with a new hello." ~ Paulo Coelho