Welcome to the John Trumbull Primary School Scientific Research-Based Interventions (SRBI) home page.
Our goal is provide parents and community members with information related to the SRBI instruction and programs at John Trumbull. We work hard to make this site informative and responsive to your needs. Please email JTPS SRBI with comments, questions, or suggestions.
Thanks!
John Trumbull Primary School is committed to providing all students with an excellent education. To do this we are using the State of Connecticut's Framework for Scientific Research Based Interventions (SRBI). The SRBI Framework is a general education, comprehensive and systematic approach to assessing and instructing students; an emphasis is placed on students whose progress indicates a need for intervention. This process provides academic and behavioral instruction to support and improve educational outcomes for all students. The goal is to provide a seamless structure of instruction so all students experience continuous growth. We know that all children learn in different ways and at different rates so by offering various strategies, we can help each child succeed.
Connecticut's SRBI plan is based on a three tier model of intervention.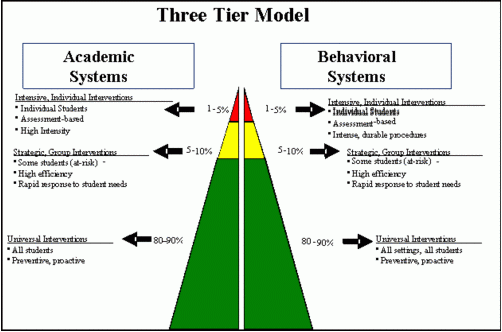 Tier I, the first level, is high quality core practices within the general curriculum for all students. Within the Tier I curriculum students participate in several benchmark assessments (universal screeners) administered to help staff identify strengths and challenges and measure students' progress in the curriculum over time. Tier II (small group targeted instruction) or Tier III (specialized instruction) is provided in addition to Tier I for students who are not meeting expected benchmarks. This specialized, small-group instruction (frequently called "intervention") includes small group, targeted lessons within and possibly outside of the classroom using alternate materials and strategies. At John Trumbull Primary, these services are generally delivered during students' Acceleration Station time and are provided in addition to the daily core instruction students receive in the classroom. The format for intervention is typically small group instruction several times a week; this instruction targets specific skills and can be provided by a variety of school staff members including the reading specialists, school psychologists, speech and language pathologists, and others with specialized instructional experience. By utilizing the skills of a variety of staff, we can best meet the needs of every student.For a complete explanation of the three tier model see the "Family Guide to SRBI" document posted below.
We look forward to partnering with families to ensure success for all students.