"School's out for Summer!"
Friday, June 16, 2023
Dear Watertown Public Schools Faculty, Students, and Families,
On the last day(s) of school, I would like to wish each and every Watertown family a wonderful start to Summer break. After a year of hard work, perseverance, and accomplishments, you all deserve time to rest, spend quality time with friends and family, and watch countless sunsets!
And, thank you to all of our WPS faculty and staff for all you do each and every day to make our school district Watertown! Thank you Teachers, Administrators, Paraeducators, Nurses, Secretaries, Custodial/Maintenance/Technology, Cafeteria, substitutes, volunteers, and Bus Drivers for making every day possible. And thank you families and students for being part of the teaching and learning experience we set out to traverse each day.
We have much to be proud of as a district. We have accomplished so much together. We continue to forge forward and take the next step in our journey.
Please click each link below to see pictures from special events over the past week.
Congratulations to all of our graduates! Until next academic year….enjoy your Summer, Watertown!
Dr. V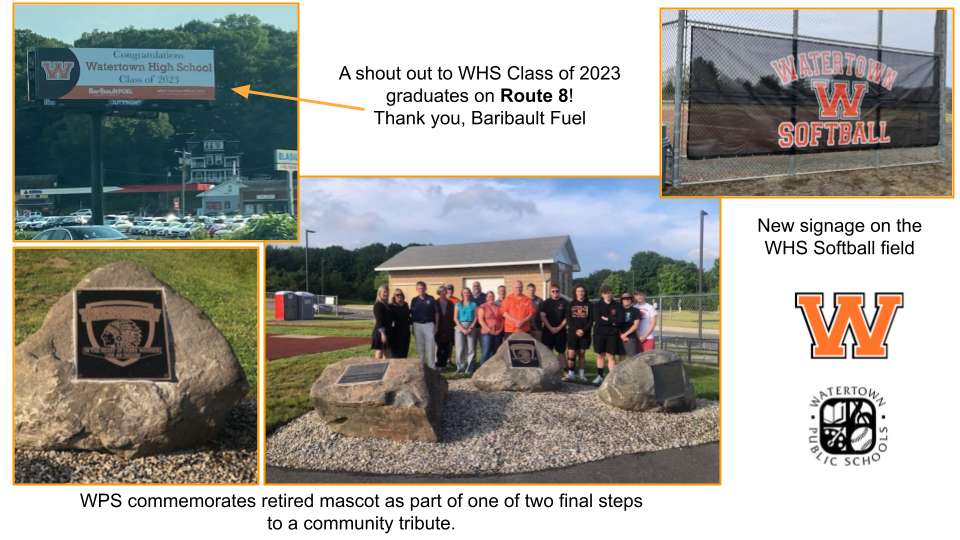 Important Dates and Happenings
June 16 - Last Day of School for Polk Elementary School & Swift Middle School Students and Faculty
June 19 - Juneteenth Day, School Offices Closed. Central office will be open on adjusted hours.
June 19 - Regularly scheduled Town Council Meeting, 7PM Town Council Chambers
June 21 - School Capital Projects Committee Meeting, 7PM, Town Council Chambers
June 26 - Regularly scheduled BOE meeting, 7PM WHS Lecture Hall
July 1 - Post University tuition deposits due
Thank You To Our YMCA Partners
This summer, select students from JTPS, Judson, and Polk school received scholarships from the YMCA to attend Camp Mataucha this summer. Please join me in sending a big THANK YOU to our YMCA partners for this wonderful in-kind opportunity.
Quote of the Week
"In early June the world of leaf and blade and flowers explode, and every sunset is different". ~ J. Steinbeck