1st Meeting of Newspaper Club, Thursday September 23rd, Until 3:30 (Late Bus Available), Room 209

1st Day of Garden Club- Thursday, Sept 30th until 3:30 1st Day Art Club- Thursday, Sept 23rd, until 3:30

1st Peace Pal meeting Thursday, Sept. 23 until 3:30 in room 132

Attention SWIFT students! The Swift UNIFIED Sports team is going to be participating in SOCCER this fall. If you are interested in participating in this year-long sports activity that works to bring students of all abilities together in fun activities this is the Club for you. Please come to an informational meeting after school Thursday, Sept 23 in the Library to learn more about UNIFIED Sports and to see if we are the activity for you! The Late BUS will be available after the meeting

Leo Club. The first meeting will be Tuesday, September 21st 2021 until 3:30. Meeting will be in the auditorium. Future meetings will be on the first Tuesday of the month. Late bus is available.

Attention students in Grades 6, 7 & 8: There will be an informational meeting of the 2022 Swift Yearbook Editors Club on Monday, September 20th after school in the library for any students interested in helping create this year's Yearbook. Students from all grades are welcome! Come find out what creating the SWIFT Yearbook is all about. The Late BUS will be available after the meeting.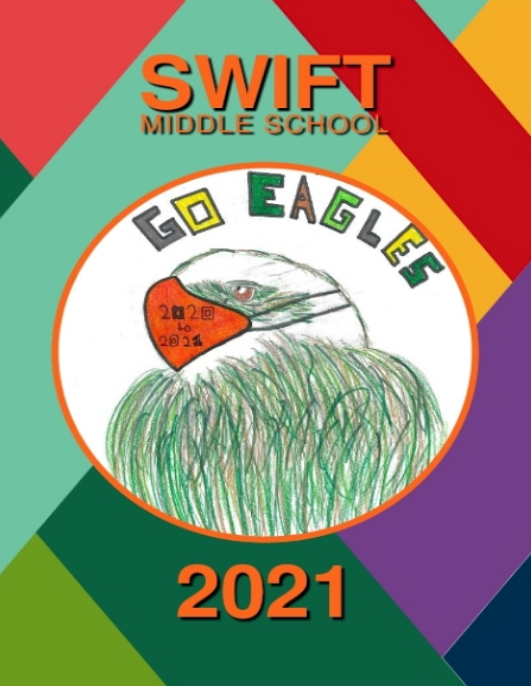 Tryouts today 9/9 have been cancelled. Check the Swift Athletics page for an updated tryout schedule

Registration for fall sports is now open on our Swift Athletics page. It will remain open throughout the summer until 9/2/21. Tryouts will begin soon after that so be sure to have an updated physical in order to participate.

Today's 4/29 baseball and softball games have been postponed to a later date TBA. There will be no practice after school.

Baseball and Softball tryouts have been cancelled today. Anyone who was supposed to attend today's tryouts will now stay after school on Monday 4/5 until 4:30.

Thursday 3/25/21 is the last day to register for baseball/softball tryouts at Swift. Check the Swift Athletics page for the registration link and tryout information.

Swift will offer spring sports this year! To register for baseball or softball and see the tryout schedule visit the Swift Athletics page. Sign up using the Family ID registration link and be sure to check with the nurse to see if an updated physical is in our system.

Art and Garden Clubs starting at Swift. Please click on "Menu" then "School Clubs" for more information.

Today is the last day to register for Co-Ed Basketball Intramurals at Swift. An email will be sent out of Friday afternoon 1/29/21 to those who registered with more information about days and guidelines.

Swift is offering Co-Ed Basketball during the month of February for all 6-8 grade students. Information can be found on the Swift Athletics page as well as the registration link. You must register by the end of day Thursday 1/28/21 in order to participate.

With the possible FIRST "Snow Day" of the school year, the yearbook staff is looking for photos of you enjoying the "day off". Go to the website below to share your Snow Day Pictures with the yearbook staff for consideration in this year's yearbook. GO TO
WWW.HJeShare.COM
Enter our school code: swiftyb

The 2021 Yearbook Staff is looking for an ARTIST who can capture a theme for one of the FEATURES of this year's yearbook. Draw a version of the SWIFT EAGLE wearing a face mask. Submit your hand drawn image to the yearbook advisor, Mr. Peronace, by leaving it in the Main Office or emailing it to
peronaceri@watertownps.org
DEADLINE for SUBMISSIONS is Friday, January 22, 2021

Soccer and Running clubs have been canceled today 10/29 and tomorrow 10/30. Due to these cancellations we will offer one more day for this group next week on Thursday 11/5.

10/16 Today's soccer and running clubs have been canceled due to weather

10/13 Todays' soccer and running clubs have been canceled due to weather