Friday March 26, 2021

Dear Watertown Faculty and Families,
This is a reminder that it takes an entire community to ensure our schools remain open. The Watertown Public Schools is committed to working together with our nurses, medical providers and all of our families to keep our students in school safely. We continue to have minimal to no in-school transmission in our schools however, each time we have a positive case from outside of our schools brought into our buildings, we must follow our contact tracing protocols, which can cause high numbers of quarantines.
I urge all of our families to review the following and call your child's school if you are unsure how to proceed:
If your child is experiencing symptoms (fever, headache, sore throat, loss of appetite, fatigue, body aches, etc) to self-monitor and see a physician and do not return to school with symptoms.

If you are waiting for test results do not return to school until you receive your results before returning to school.

If someone in your home is quarantining and your child has been in close contact please call the school for guidance on how to proceed.
Lastly, this is a reminder that Wednesday, March 31st will be a remote day for all students PreK-12 due to the high number of faculty who will be receiving vaccinations the day prior.
Have a safe and healthy weekend,
Dr. V
Happenings and Useful Information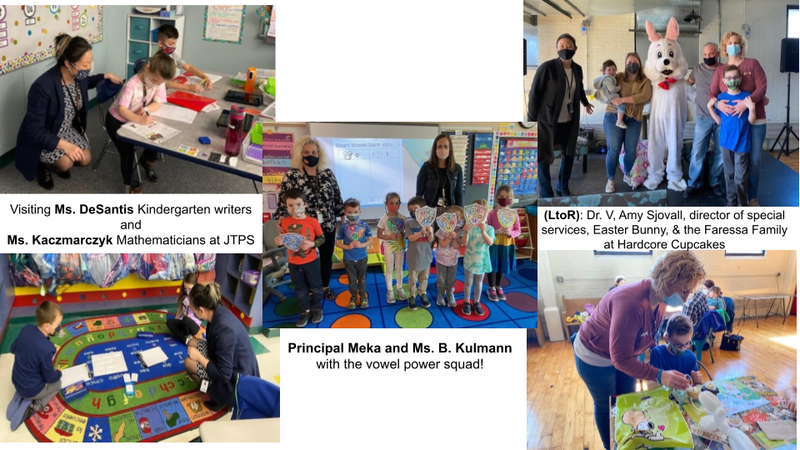 Dates to Remember
Friday, April 2 - Good Friday, Schools Closed
Monday, April 12-16 - Spring Break, Schools Closed
WHS Mascot Suggestions
Watertown High School is beginning the process of determining a new school mascot. Input on the new school mascot is being gathered from students in grades 6-12, Watertown Public Schools staff members, and Watertown and Oakville community members. Community members are invited to send in suggestions for the new mascot via email to mascot@watertownps,org by Tuesday, April 6.
The high school is utilizing the following characteristics when considering a new mascot:
Be unifying and timeless for Watertown High School and the larger community;
Represent positive qualities, ideals or associations around which people can rally;
Be representative of Watertown's geography, history, and/or Vision of a Graduate, either generally or specifically;
Work equally well with all athletics programs and school activities;
Be appropriate for sporting and non-sporting events;
Have the potential to translate in a visually pleasing manner, be appealing, and marketable to the community; and
Adhere to all Watertown Board of Education policies and regulations.
Following the gathering of suggestions, the high school will engage in rounds of voting in order to determine the new mascot prior to 2022.
Additional Health and Safety
What do I do if one of my children is ill and has a pending COVID test and they
have a sibling that is enrolled in school?
Follow any recommendations that your pediatrician has given regarding your family's
need to quarantine. Based on the pediatrician's level of concern he/she will provide
Guidance. School protocol is to allow siblings that are not ill and who are NOT a contact of
someone who is COVID (+) to attend school while the results are pending.
What if my child has had contact with someone that has tested positive for
COVID-19?
If your child meets the minimum definition of a contact, your child will need to quarantine
for 10 days from last contact of the COVID (+) person. Students will need to continue
to monitor for any signs or symptoms of COVID-19. Should any signs or symptoms
develop while at home during your quarantine period the nurse will need to be updated.
Should a student develop any signs or symptoms during days 11-14 while at school you
will be sent home with recommendation to follow up with your health care provided.
You should immediately contact your child's pediatrician and inform the school nurse
where your child attends.
Quote of the Week
"Alone we can do so little; Together we can do so much" ~Helen Keller