Friday June 4, 2021

Dear Watertown Faculty and Families,
This week has been filled with celebrations, recognitions, and end of year events to mark a quickly winding down year. A special shoutout goes to our Watertown Paraprofessional of the Year, also known as the POY 2022, Ms. Vjolca Mustafi of Polk Elementary School.
With more excitement to come in the next two weeks, I hope you all get some time to enjoy the warm weather expected this weekend.
Sincerely,
Dr. V
Happenings and Useful Information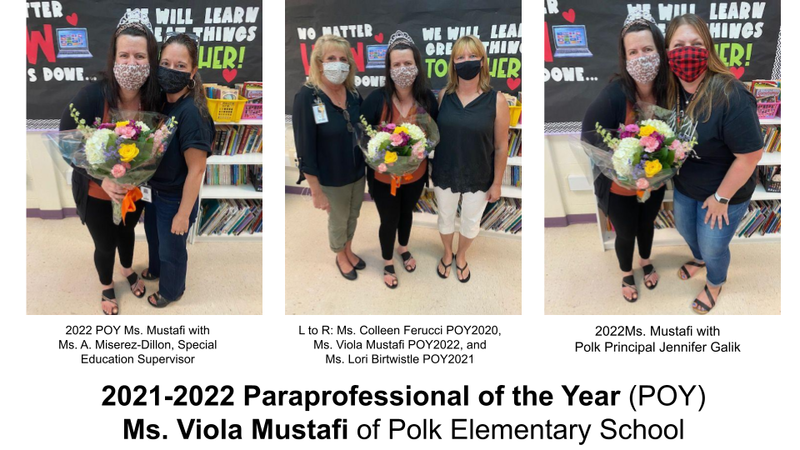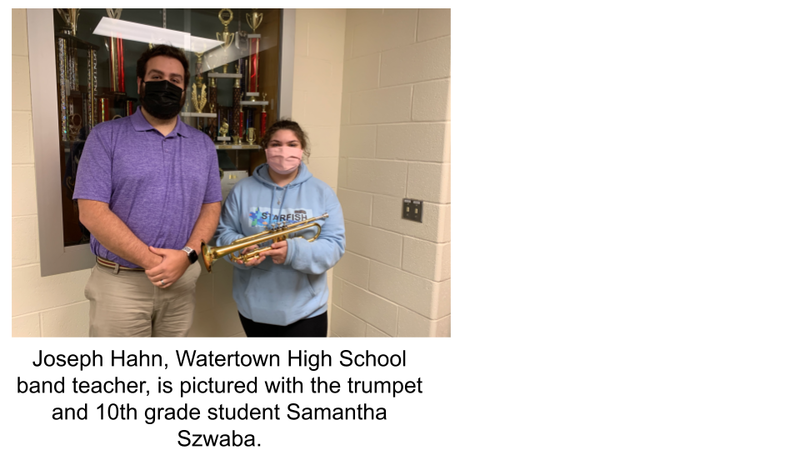 The Watertown Music Department was recently awarded a Trumpet from Horns for Kids, a non-profit organization that supports deserving school music programs throughout Connecticut. Their main purpose is to encourage children to experience the thrill of performing music in school and as a life-long activity. H4K raises funds through private and corporate contributions and awards clean, playable instruments to Connecticut school music programs.
Preparing for Hot Weather Next Week
Based on a number of weather reports, CT in anticipating very high temperatures at the start of next week. DPH guidelines on Extreme Heat can be found by clicking here. This is a good time to remind your children to:
Wear loose lightweight clothing

Stay hydrated

Keep activity to a minimum and lights off
WPS will always closely monitor each of our school buildings with cool down breaks in mind.
Summer School Information
Continued information about summer will be shared directly by schools over the next week.
Click here for all Summer School Offerings K-12.
Town Public Hearing
On Thursday, June 9, 2021 at 7PM in the WHS Auditorium, the Town Council will hold a special meeting and public hearing to discuss a BOE special appropriation for the current FY21 year. Click here for the official posting.
YMCA Before and After School Care
The Waterbury YMCA offers Before and After School care for students and families. Our program offers children the enrichment and support they need mirroring what happens in their schools. We also offer parents and families the support they need through a flexible daily schedule. Fill out the following YMCA form to register.
What Makes our Program special?
Homework Help

Character Development

Arts/ STEM

Gym/ Outside Play

Physical Activities

Social and Emotional Skill Development

Student-Centered Focus

Well Trained Staff

State licensed

Easy Access for your child- Our program takes place right in their school's cafeteria! (John Trumbull Primary, Polk, Judson)
For questions about programming contact Adam Dubois, Outdoor Center Director, at adubois@waterburyymca.org; for questions about registration, contact Emily Powell, School Age Child Care Director at epowell@waterburyymca.org
Reopening Plan Related Documents
All Reopening 2021-2022 Plan Related Documents can be found on our main district website.
Covid Clinics: Hartford Healthcare
Hartford Healthcare continues to hold Pfizer vaccine clinics for anyone 12 years of age or older in Torrington. They are providing 1st and 2nd doses.
An Act Concerning Immunizations
On April 28, 2021, Governor Lamont signed into law Public Act 21-A, https://www.cga.ct.gov/2021/ACT/PA/PDF/2021PA-00006-R00HB-06423-PA.PDF "An Act Concerning Immunizations," which updates Connecticut's immunization requirements for students attending preK-12 schools, day care programs, and institutions of higher education by removing the option of religious exemptions.
The Connecticut State Department of Education has provided districts with the guidelines that we must follow regarding this new law. In order for your child(ren) to be currently exempt from receiving immunizations due to religious reasons, your child(ren):
1. must have been fully enrolled (registration process complete, if a new student) in a Watertown or Oakville school (including parochial) by midnight April 28, 2021 and
2. must have submitted a valid religious exemption prior by midnight on April 27, 2021
If you submitted documentation and do not meet these two requirements, you will receive a letter from the school in the next week indicating that your child(ren) are not exempt from immunizations so that you can plan accordingly for the upcoming school year.
A Message from Principals Meka and Lerz on Behalf of the WPS
It is with sadness that we write to share that Katie Consalvo, a lifelong Watertown resident who attended Watertown schools, and was deeply involved in our community passed away yesterday. Katie was an active supporter of our schools and our children, both as a PTO leader and as a Pop Warner parent. She and her husband, Brian, ran Pop Warner for many years and Katie was an ardent supporter of the group. Katie's connection to Watertown extends back to her parents, lifelong residents, as well as extending forward to her children, Emily and Andrew, both WHS graduates. Katie's mom was a para at Baldwin School and now Andrew works at Swift and is going to become a teacher!
Quote of the Week
"Happiness comes from WHAT we do. Fulfillment comes from WHY we do it". ~ Simon Sinek