EDIT MAIN
INTRODUCTION
Since schools were closed in March, districts around the country have been working diligently to balance the safety of students and staff with the need for high-quality instruction. We have had to rethink what schools look like and the ways we are able to meet the needs of students and families. In Watertown, we recognize that our eventual re-entry will bring with it more unprecedented changes in the way we operate and our readiness will depend on a variety of elements including state and federal regulations and guidelines. Watertown Public School District is taking the necessary steps to ensure our ability to do so.
In planning for the reopening of the Watertown Public Schools, our goal has been to envision the safest environment and the highest quality instruction for the school community. To achieve this end, our goal has been to develop a comprehensive plan for reopening Watertown schools in the fall that prioritizes the health and well-being of students and staff, provides solutions to the logistical challenges associated with school operations and focuses on instructional delivery. As students return, we are focused on maximizing learning opportunities that prioritize our students' social and emotional needs.
Our plan, Reopening, Reconnecting and Reimagining, is the culmination of countless hours of work from more than 40 members of our community. The plan provides details for how our schools will reopen, highlights the importance of reconnecting with our students, staff and families and captures how our district is reimagining what learning looks like through the use of digital tools.
---
Watertown School Re-Entry Advisory Council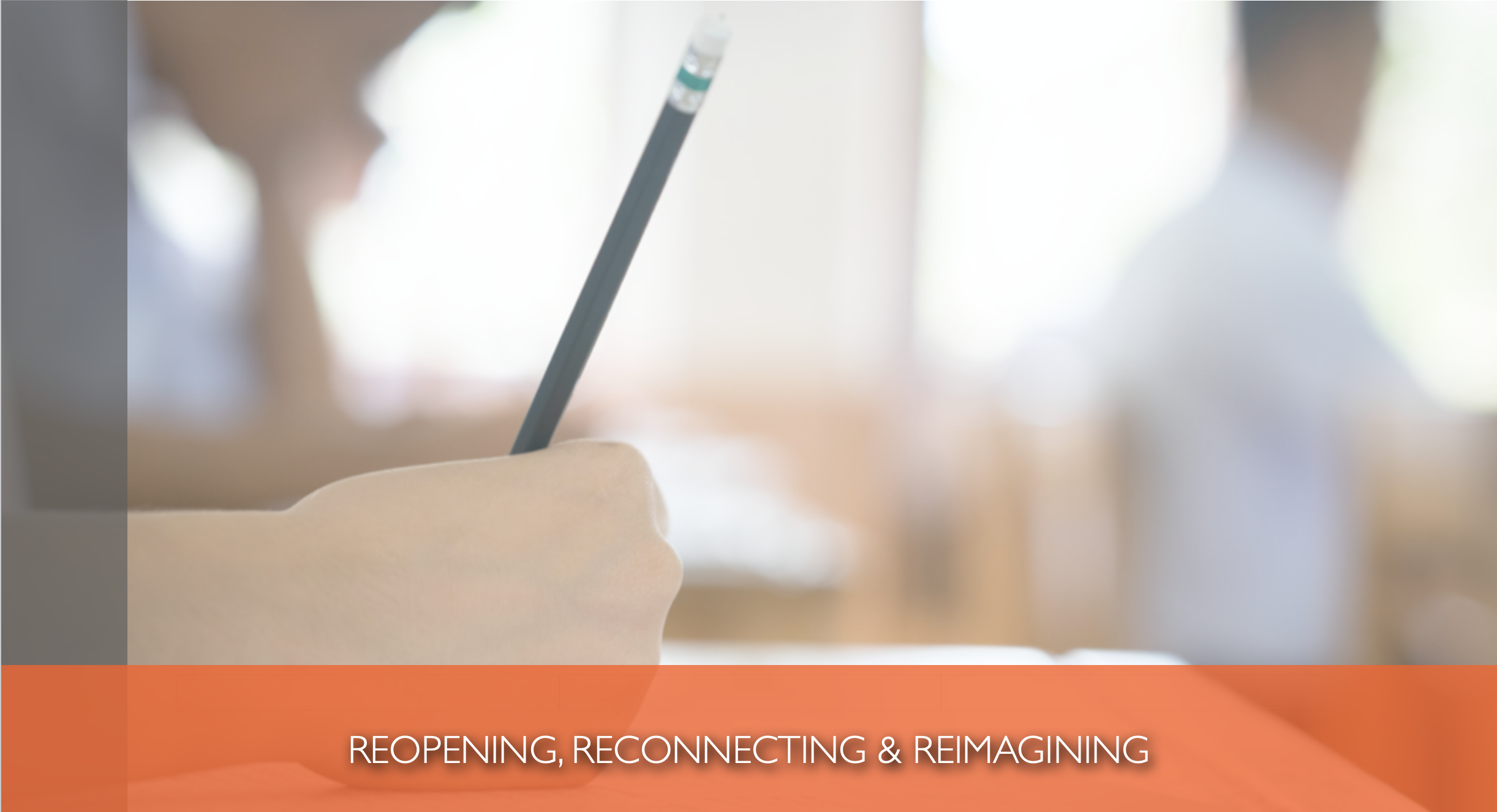 In order to reopen, the Superintendent of Schools and the Watertown Board of Education have tasked the Watertown School Re-Entry Advisory Council (SRAC) with the charge of reviewing all reopening guidelines from the Connecticut State Department of Education (CSDE) and developing consistent expectations for each of the schools to assist school-based leadership teams in their efforts to plan for the fall of 2020. The SRAC, which includes representative(s) from the Board of Education, Administration, Teachers Union, Medical Field, and the Watertown Police Department. To prepare for the fall, the Council identified three priority areas– Health and Well-Being, Logistics and Operations, and Instructional Delivery–and established Working Groups to address each of the priorities. Each of the Working Groups included subject matter experts whose specific knowledge base and background helped to inform the development of our plan.
SRAC Members
| | |
| --- | --- |
| Dr. Rydell Harrison, Superintendent of Schools | Ms. Leslie Crotty, Board of Education Chair |
| Ms. Lisa Fekete, Director of C&I | Ms. Cathie Rinaldi, Board of Education Member |
| Ms. Annette Dillon, Int. Director of Student Svcs. | Dr. Janet Parlato, WHS Principal |
| Ms. Jen Galik, Polk ES Principal | Ms. Mary Jean Mangione, Swift MS Asst. Principal |
| Ms. Terri Baldwin, WEA President | Ms. Sarah Simmons, Nurse Coordinator |
| Dr. Craig Czarsty, School Medical Advisor | Ofc. Josh Bernegger, Interim Chief of WPD |
Subject Matter Experts
Thomas Allen, Social Worker
Elise Archibald, Math Specialist
Julie Ayer, Counselor
Kelly Bainer, SPED
Julianne Bombero, SPED
Paul Catuccio, Dir. of Athletics
Ashley Coon, Reading Specialist
Tom DiStasio, Business Manager
Cindy Eastman, BOE Member
Sharon Heady-Labansky, Lit. Coach
Marylou Iannone, SJS Principal
Nicole Lewis, Media Specialist
Jason Malagutti, BOE Member
Sherri Marquardt, Teacher
Kylee McIntosh, SRBI Coordinator
Laura Meka, JTPS Principal
Michaela Morris, SPED
Deb Mulhall, SMMS Principal
Ashley Onion, Dir. of Food Services
Jim O'Rourke, CEO of YMCA
Janet Parlato, WHS Principal
Matthew Paylor, JTPS AP
Michelle Pinella, First Student
Bobby Rinaldi, Math Teacher
Tom Romano, Custodian
Michelle Spagnoletti, Nurse
Steve St. Mary, Facilities
Jeff Turner, Director of Technology
Catherine Walsh, Psychologist
Becky Zadlo, Paraprofessional
---


WATERTOWN SCHOOL RE-ENTRY PRIORITIES
Health and Well-Being
Our schools will be prepared to reinforce healthy practices among our staff and students, take preventative actions to prevent the spread of all respiratory illnesses, and prepare for any potential cases or increased transmission of COVID 19. In recognition of how the COVID-19 pandemic has created different types of traumatic experiences and high levels of stress for many of our students, staff and families, our schools will prioritize social/emotional well-being for all.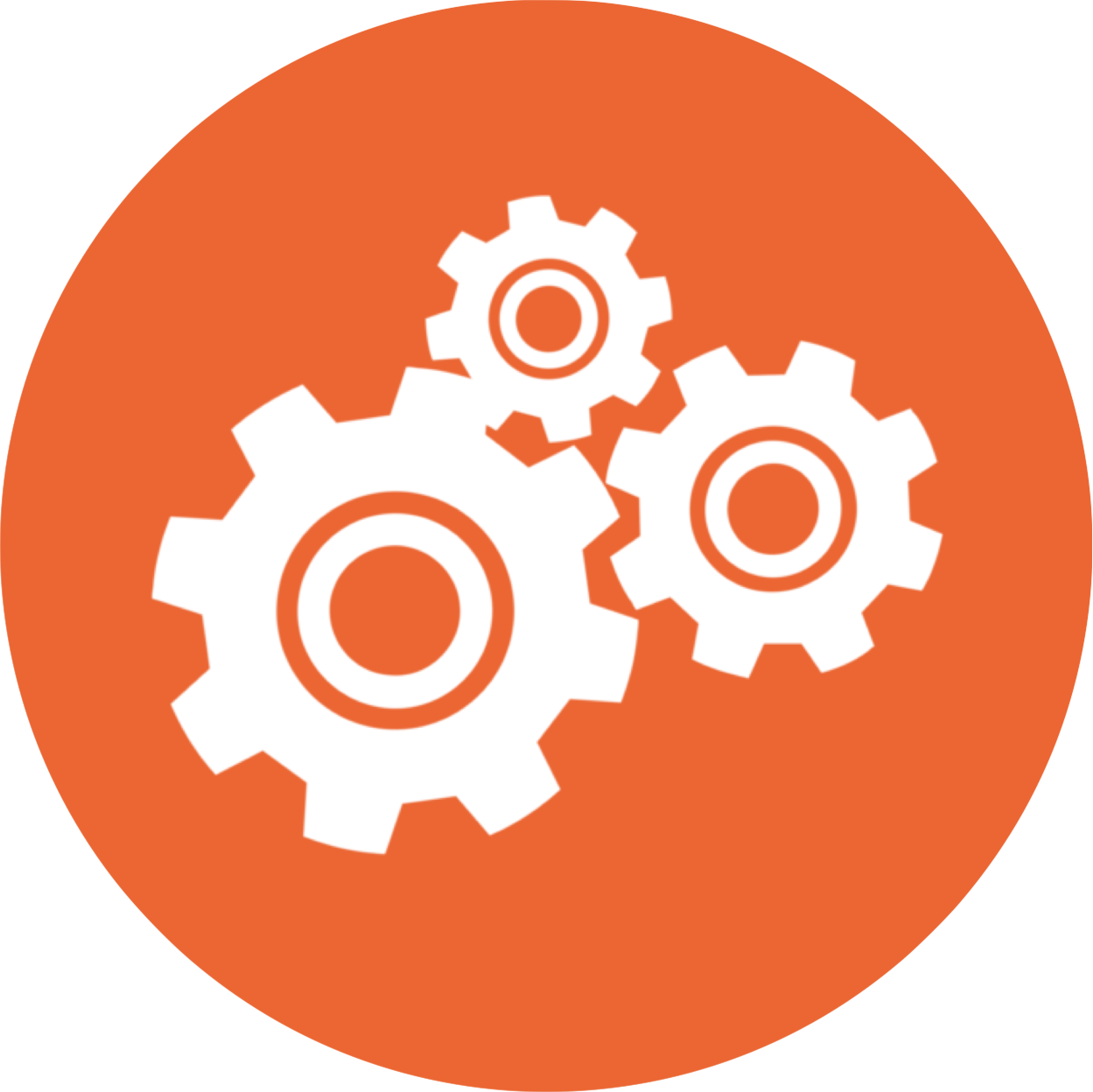 Logistics and Operations
Like workplaces around the world, our schools will reopen with new protocols designed to increase physical distancing and safeguard the health and safety of students and staff; heightened hygiene, cleaning and sanitation routines to maintain safe learning environments; and revised district policies and administrative regulations that address everything from student attendance to the wearing of face coverings/masks.
Instructional Delivery
Our schools will reopen with instructional schedules and model options that are flexible and based on current transmission levels, understanding that we may start the school year with one model, and as new information becomes available about health and safety, may transition to different models. Regardless of the model of instruction, our schools will implement instructional strategies that ensure that every student is on track for success academically, socially and emotionally.
---


CONNECTICUT STATE DEPARTMENT OF EDUCATION (CSDE) GUIDELINES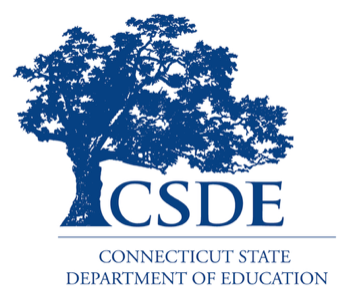 In June, 2020, the CSDE released Adapt, Advance, Achieve: Connecticut's Plan to Learn and Grow Together to guide school leaders as they begin planning for the fall. According to the guidelines, districts "should plan to have all students, in all districts, return to schoolhouses for full- time instruction at the beginning of 2020–2021, so long as public health data continues to support this model. This model will be supported with more intensive mitigation strategies and specific monitoring, containment and class cancellation plans" (p. 4).
The CSDE charged districts to use the guidelines, in collaboration with all relevant stakeholders, to determine the best way to proceed consistent with the requirements. Adapt, Advance, Achieve is grounded in six guiding principles:
Safeguarding the health and safety of students and staff;
Allowing all students the opportunity to return to school full time starting in the fall;
Monitoring the school, students, and staff and, when necessary, potentially cancelling classes in the future to appropriately contain COVID-19 spread;
Emphasizing equity, access, and support to the students and communities that are emerging from this historic disruption;
Fostering strong two-way communication with partners such as families, educators, and staff; and
Factoring into decisions about reopening the challenges to the physical safety, social-emotional well-being, and the mental health needs of our students when they are not in school.
Additionally, the CSDE highlighted five health and safety protocols and infection mitigation strategies that districts should emphasize:
| | | | | |
| --- | --- | --- | --- | --- |
| | | | | |
| Maximize Social Distancing | Frequent Hand Washing/ Use of Hand Sanitizer | Face Coverings that Completely Cover the Nose and Mouth | Enhanced Cleaning/ Disinfection of Spaces/ Surfaces | Cohorting Students PreK-7 |
---
VOLUNTARY REMOTE LEARNING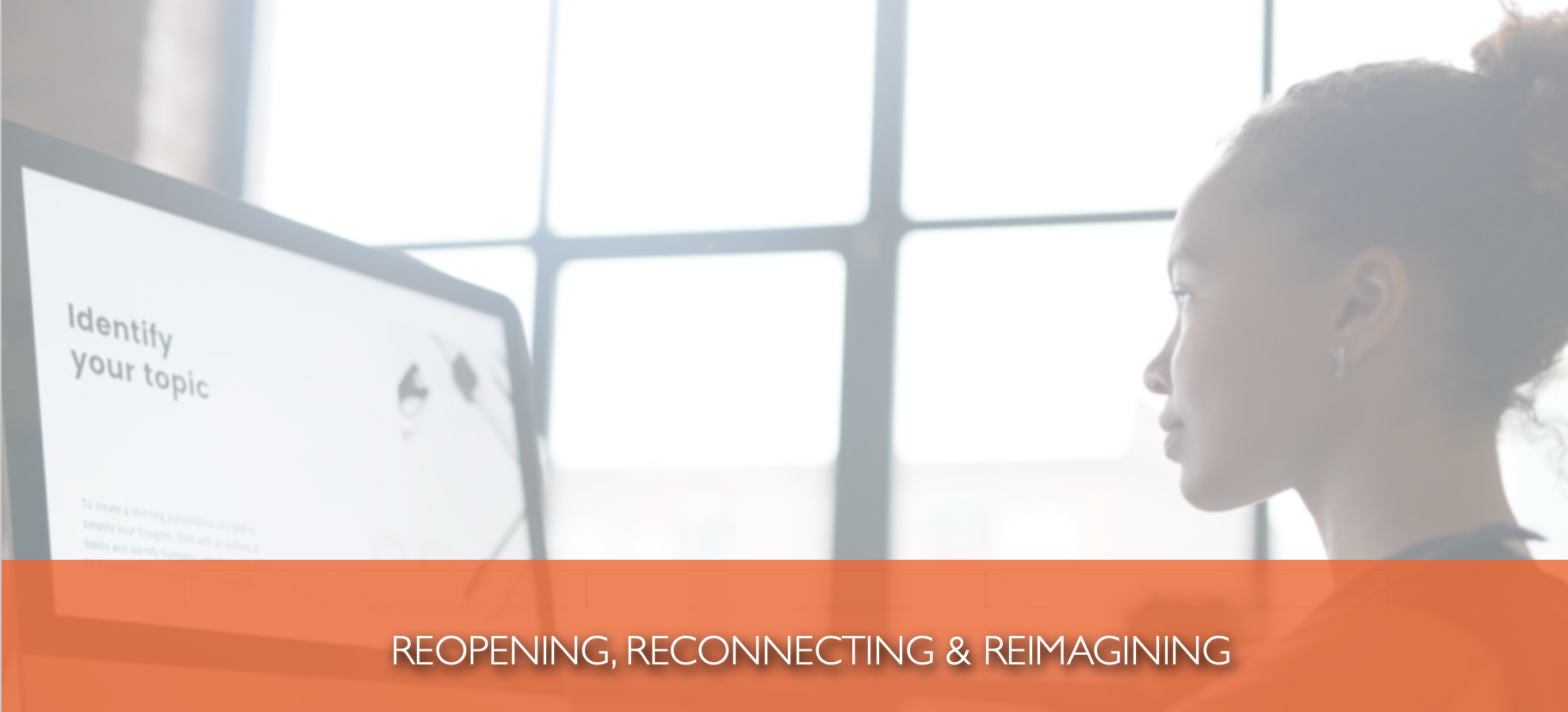 Adapt, Advance, Achieve: Connecticut's Plan to Learn and Grow Together also includes the requirement that school districts plan to provide ongoing support to families and students who temporarily opt into voluntary remote learning.
Families may temporarily opt into voluntary remote learning rather than returning to school for in-person lessons. Families who opt into voluntary remote learning for their children should plan on continuing in this placement on a semester-by-semester basis as this information is essential for us to finalize students' classroom teachers, team, schedule, and bus route/time. If families decide to discontinue voluntary remote learning and return their child to school for in-person learning, they should notify the principal of the change. For the health and safety of both the student resuming in-person classes, and the school community, families should notify the principal two weeks prior to the anticipated change in learning location.
Students and families that temporarily opt into voluntary remote learning will be provided with materials and support from the school. Additional classroom learning and instructional activities may be shared through contact with the State's remote learning hub. Families considering this temporary option should note the following:
The nature of the voluntary remote learning programming may not result in matching instructional hours 1:1 with an in-person learning model.
Families who decide to opt into voluntary remote learning will also be expected to supervise and engage their children to fully and effectively access the remote learning programming that is offered through the public school district.
Should public health data support a changed approach, the policy directives from CSDE related to the provision of this option may change to determine there is no longer a need for this temporary option. Therefore, this option may not be available for the entire school year.
The district will track attendance on a daily basis for students who opt in to remote learning. This tracking will be consistent with the State Board of Education's definition for attendance which states that "A student is considered to be 'in attendance' if present at their assigned school, or an activity sponsored by the school (e.g., field trip), for at least half of the regular school day."
Students will be expected to access statewide assessments in-person, unless the assessments are available remotely.
The particulars of this plan are age and grade dependent, so your child's school and teacher will provide more specific details and any next steps. The district will provide families who opt into voluntary remote learning with ongoing updates as additional guidance is provided by the CSDE.
---
The Connecticut State Department of Education recently released the Return to Learning Playlist. This playlist can supplement resources in the grade level Google Classrooms for Temporary Voluntary Remote Learners to prepare students for their return to learning by engaging in flexible, online and offline resources provided by three CSDE partners; CT Public Television, Wide Open School and Yale University Department.
Click on the link below for the CSDE Return to Learning Playlist for Students & Families:
https://core-docs.s3.amazonaws.com/documents/asset/uploaded_file/909141/CSDE_Return_to_Learning_Student_Playlist_.pdf

Overview of Three Scenarios for Continuum of Learning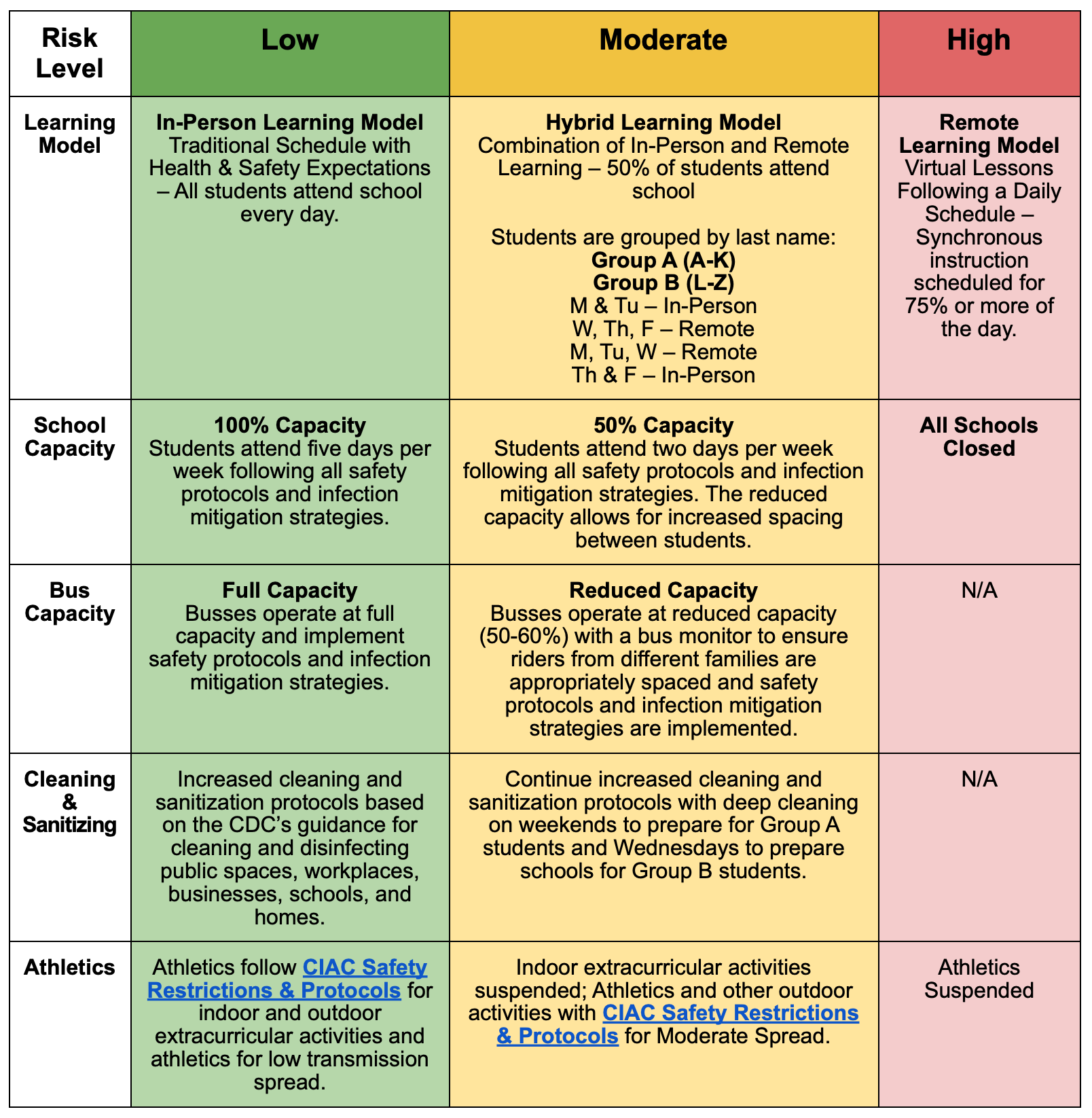 ---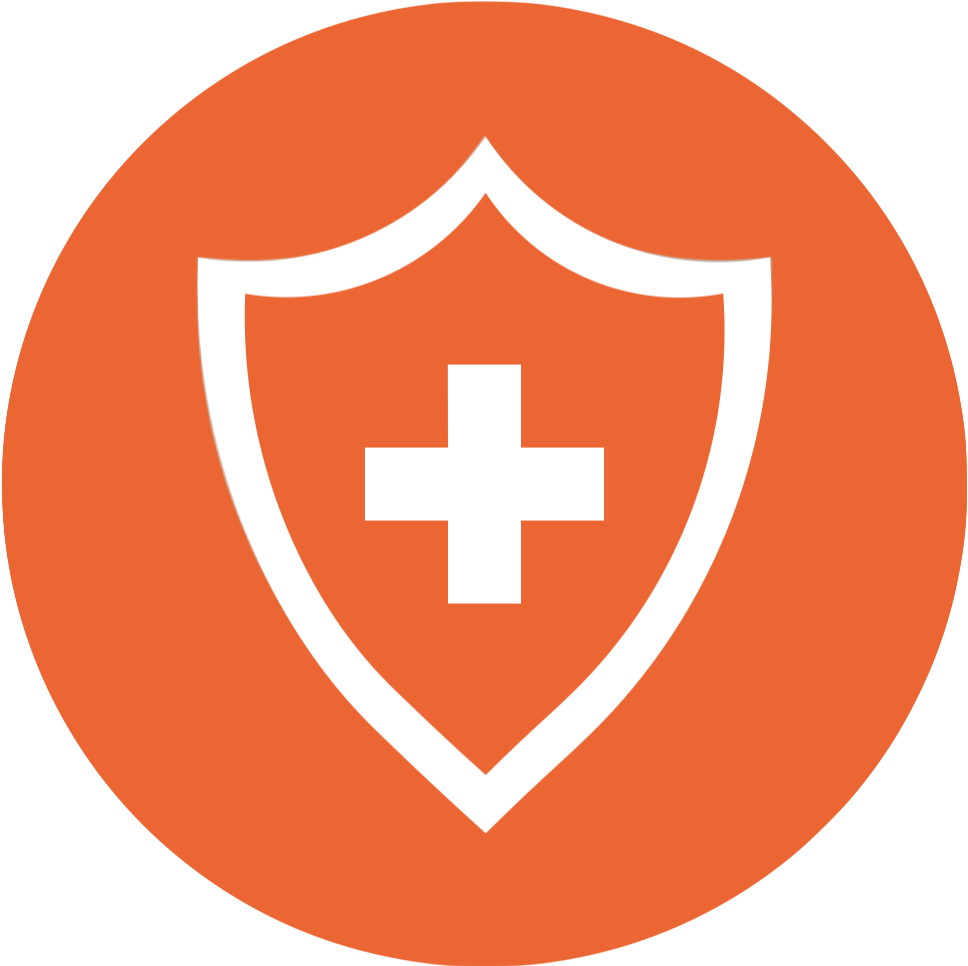 Health & Well-Being
Immunizations & Health Assessments
Immunizations remain critical in protecting students from vaccine preventable diseases. Guidance from the Department of Health was issued on June 17, 2020 emphasizing the importance of remaining up-to-date with annual health assessments and immunizations. Parents or caregivers of students who are in need of immunizations should contact their primary care physician, community health center, local health department, or school-based health center to schedule a visit, and discuss any concerns they may have with their healthcare providers. Below you will find helpful links about the delivery of immunization services during Covid-19.
---
Training Staff in Health & Safety Protocols
Watertown Public Schools will prioritize mandatory training for staff before school starts. Training modules will focus on the signs and symptoms COVID-19, standard health protocols and effective hygiene practices, donning and doffing PPE, procedures for reporting illnesses and supporting social and emotional learning.
The district's annual DCF training is designed to equip staff to identify issues related to abuse and neglect, including reporting protocols. Training this year will include looking at these policies and practices in the context of the COVID-19 Pandemic.
---
Training Students in Health & Safety Protocols
Plans have been developed at each grade level to train and engage students in the new expectations related to all public health policies and protocols. These practices include, but are not limited to:
Social Distancing
Frequent hand washing and the use of hand sanitizer
Use of face coverings
Respiratory and cough etiquette
Enhanced cleaning & disinfecting of surfaces
---
Monitoring Symptoms
Watertown Public Schools will monitor COVID-19 related symptoms in students, staff and approved visitors to decrease the risk of spreading or contracting the virus while complying with relevant privacy and health laws. Temperature checks will not be required for students, staff or approved visitors upon arrival. Instead, schools will engage in passive and active screening to monitor symptoms.
Passive Screening: Students, staff and approved visitors must be screened before leaving for school by checking to ensure temperatures below 100.0 degrees Fahrenheit (without having taken fever-reducing medications) and to observe for symptoms consistent with COVID-19. Students, staff and approved visitors should stay at home if they are feeling sick, have any symptoms associated with COVID 19, or have had close contact with a person diagnosed with COVID-19.
Active Screening: Schools will screen students, staff and approved visitors as they enter school. Active screening includes visual wellness checks and any necessary follow-up temperature checks with no-touch thermometers (checking to ensure temperatures below 100.0 degrees Fahrenheit). Students, staff and visitors will also be observed for illnesses including cough or respiratory distress, and may be asked about COVID-19 symptoms within the last 24 hours and whether anyone in their home has had COVID-19 symptoms or a positive test.
There will be no COVID-19 testing of students, staff or approved visitors at school. Local testing site information will be shared with the school community. Individuals who are experiencing COVID-19 related symptoms should follow the CDC's Steps to prevent the spread of COVID-19.
---
Symptomatic Students, Staff & Approved Visitors
Each school will implement a uniform procedure for symptomatic students, staff and approved visitors.
Symptomatic Students:
Each school will identify a designated isolation room (in addition to the nurse's office) to accommodate students who exhibit symptoms consistent with COVID-19 until a parent or guardian arrives. Students who are symptomatic while entering school or exhibit COVID-19 symptoms during the school day will be immediately separated from others and sent to the isolation room where they will be supervised at all times and required to keep their masks on. The individual supervising the isolation room will be equipped with proper personal protective equipment (PPE) and will log all persons who entered the room for the purposes of contact tracing. If there is more than one student in the designated isolated area at a time, the individual supervising the isolation room will ensure adequate physical distance is maintained. The school nurse will advise parents of sick students that students are not to return until they have met CDC criteria to discontinue home isolation. Students will be allowed to return 24 hours after a fever has broken, with a note from their healthcare provider, or with a documented negative COVID-19 test.
Symptomatic Staff and/or Approved Visitors:
Staff and approved visitors who are symptomatic while entering school or become symptomatic during the school day will be sent home and advised to seek medical care. The school nurse will advise symptomatic adults not to return until they have met CDC criteria to discontinue home isolation. Staff and approved visitors will be allowed to return 24 hours after a fever has broken, with a note from their healthcare provider, or with a documented negative COVID-19 test.
Symptomatic staff members who are out of work may be eligible for a paid leave of absence for up to 2 weeks under the Emergency Paid Sick Leave Act (EPSLA). EPSLA may only be used one time. Currently, EPSLA provisions are due to end on Dec. 31, 2020. Employees should notify their supervisor or the Compliance Liaison if they meet one of the six conditions under which employees may be paid while on a leave of absence for up to 2 weeks:


Under state quarantine order
Under self-quarantine order directed by a physician
Experiencing COVID-like symptoms and waiting for a diagnosis
Caring for someone who is quarantined, living in your household
Caring for a child whose school or daycare is closed
Any other similar condition to the above
---
Containment Plan
Each school will establish a Containment Response Team (CRT) that includes the School Principal, School Nurse, and the district's Compliance Liaison.
The focus of the CRT is to decrease the risks of spreading the virus if an individual has signs or symptoms of COVID-19, there is a known exposure, or a member of the school community has a confirmed diagnosis of COVID-19.
If a student or staff member has a confirmed diagnosis of COVID-19, the CRT will immediately notify the Superintendent who will coordinate with the Torrington Area Health District on contact tracing, determining the scope of the concern and deciding the next steps.
The decision to suspend or close a school (or the entire school district) will be made by the Superintendent based on information and recommendations from Torrington Area Health District, the Medical Advisor and CDC guidance. If necessary, the Superintendent will communicate with all staff and families, as well as to local and state officials that a school or the school district is shutting down for a time period (to be determined).
This tables below provided by the CSDE address issues when a student or staff person has or develops: possible signs and symptoms of COVID-19; a diagnosis of COVID-19; or exposure to a person diagnosed with COVID-19. They describe immediate actions for removing an individual from the school setting and when to safely return them to school. The Superintendent will use this as a guide, in consultation with public health experts, including school nurses, the school medical advisor, local health directors and in consideration of all specific circumstances on a case-by-case basis.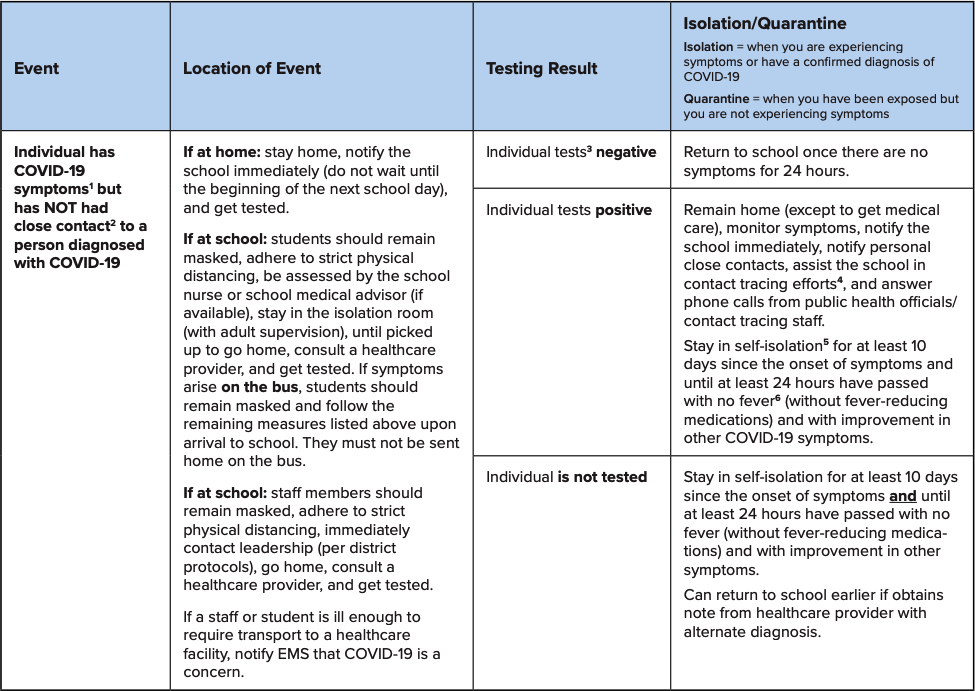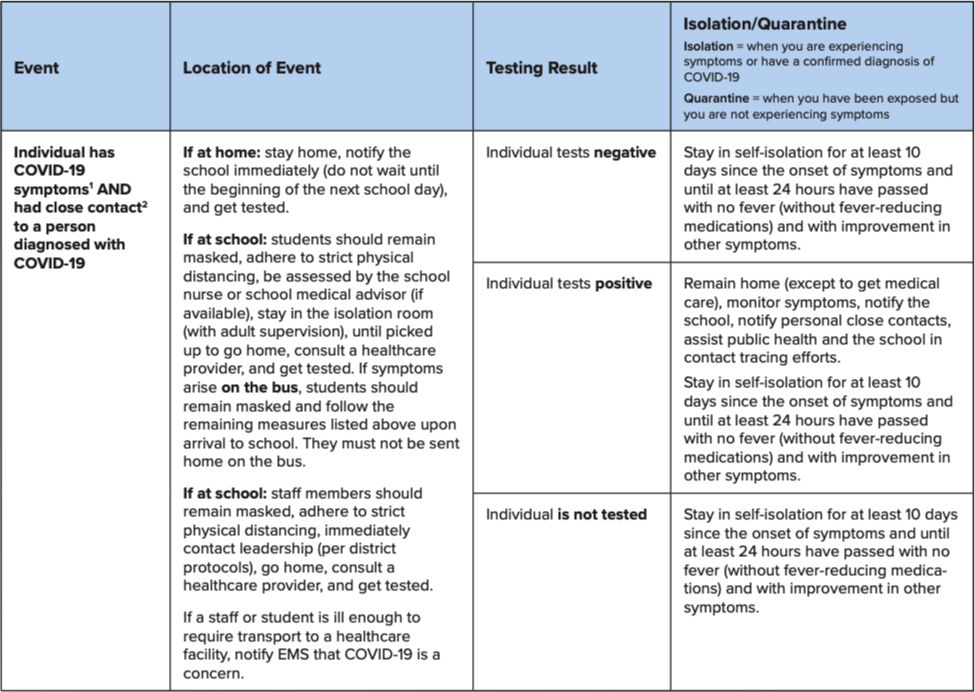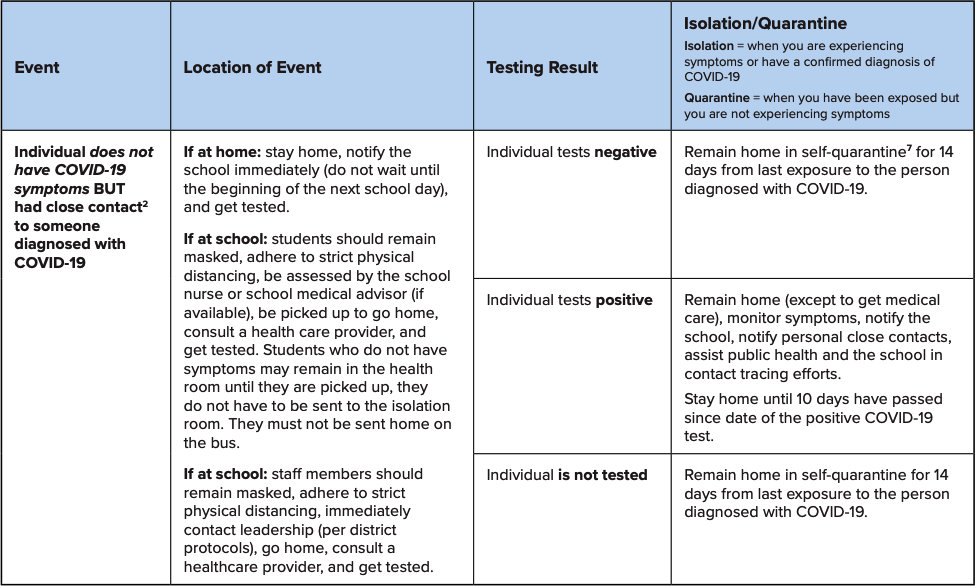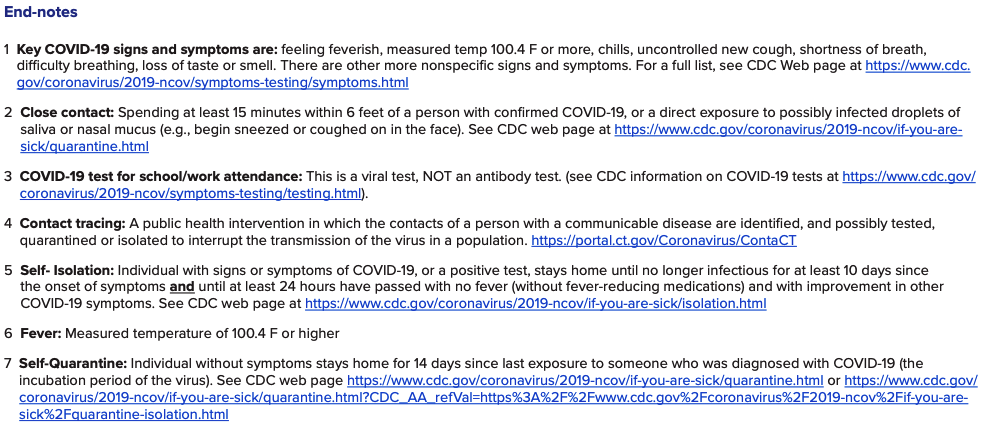 ---
Staying Home Sick
Staff and students are strongly encouraged to stay home when sick. Symptoms of COVID-19 include but are not limited to:
Fever or chills
Cough
Fatigue
Headache
Sore throat
Nausea or vomiting

Shortness of breath or difficulty breathing
Muscle or body aches
New loss of taste or smell
Congestion or runny nose
Diarrhea
---
High-Risk Employees
Watertown will continue to follow all mitigation strategies recommended by the CDC and local health officials and prioritize the health and safety of all students and staff. Those employees who believe that they are at greater risk of infection and would like to discuss accommodations should notify their supervisor and make an appointment with the HR Specialist, Kristen DiVenere to discuss other possibilities. We will respond to concerns and needs on an individual and confidential basis. There is no one-size-fits-all approach and each employee's situation will be reviewed on a case-by-case basis.
---
Substitute Plan
Specific action steps have been taken to ensure continuity of instruction and adherence to safety protocols in the event of teacher absences. Each school has at least two dedicated building substitutes. Additional building substitutes will be secured based upon need once final commitments to return to school have been confirmed from both staff and students. Additionally, several of our schools maintain interns from various universities that serve in this capacity. When necessary para-professionals will be utilized and compensated at the rate indicated in their contract. Combining groups of students will be limited to urgent and unavoidable occurrences, and in such cases, social distancing and other safety protocols will be strictly adhered to. Training in these protocols will be provided.
---
Free & Reduced Lunch
Free and reduced lunch eligibility does not carry over from one school year to the next. The application process for free and reduced lunch must be completed annually. Application packets for free and reduced lunch will be sent home to families on the first day of school. The application packets include the free and reduced-price meal application, application instructions, addendum A, FAQ's for family application, My School Bucks' letter, Addendum B, Addendum C, and breakfast flyer. Once a family has completed the application, it will be sent to the child's school or the Watertown Student Lunch department to be reviewed by the determining official. The determining official will determine the correct eligibility and change the child's free/reduced/paid status in the point of sale system.
---
Meals for Students who Opt into Voluntary Remote Learning
The students who temporarily opt into voluntary remote learning in the fall who are in need of food service will receive breakfast and lunch via grab and go method. The meals will be provided at Watertown High School at a designated time. The menu will be based on the hot and cold options offered at the high school. The grab and go meals will contain cooking and food safety instructions for families. Families are expected to contact the Food Service Director via email the day prior to inform Watertown Student Lunch they will be picking up meals for their students. When picking up the meals, families will provide the names of the students who attend Watertown Public Schools so Food Services can account for those students. The point of sale allows for the Food Service Director and Food Service Secretary to ring in the students on the days they receive meals. Therefore, no student will be able to consume two reimbursable meals daily. Additional information will be shared with families who choose this option.
---
Meals During Extended Cancellations
Should there be extended cancellation of school, Watertown Student Lunch will start the emergency feeding program and will serve breakfast and lunch to families daily. The pick up location will be at Watertown High School in the bus loop. There will be tables 6 feet apart and the staff will place the prepackaged reimbursable meals on the table for the amount of students the household has. Watertown Student Lunch will have a register by the emergency feeding location for the students/families to provide the student's PIN number for accountability purposes. After the student/family provides their pin number, a breakfast and lunch will be rung in and accounted for.
---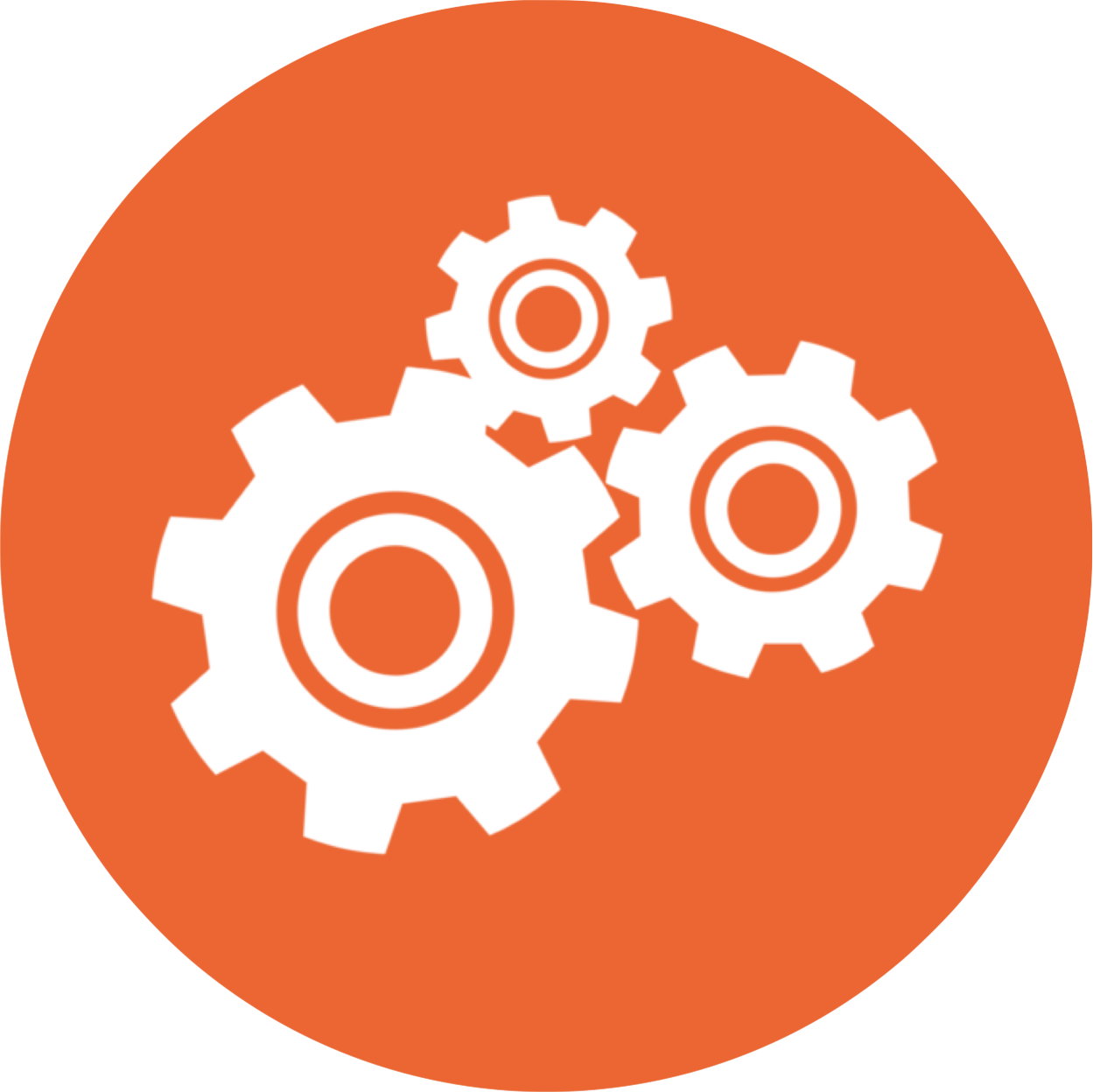 Logistics & Operations
Compliance Liaison
Watertown Public Schools has designated Mr. Tom DiStasio, Business Manager, as COVID-19 Health & Safety Compliance Liaison. Along with building administrators, the Director of Curriculum & Instruction and the Superintendent of Schools, Mr. DiStasio will be available to address COVID-19 questions or concerns. Mr. DiStasio can be reached through email at compliance@watertownps.org.
---
District Calendar Changes
CT's Commissioner of Education modified the 180 school year to a requirement of 177 days in order to include three additional full Professional Learning Days during the year. Watertown Public Schools will utilize two of these days prior to the start of the school year. Therefore, school will not begin until Tuesday, September 1, 2020. The first week of school (September 1-4) will be early dismissal (4-hour) days. Teachers will report back beginning on Monday, August 24, 2020.
---
School Start & End Times
In order to accommodate transportation needs, such as the addition of buses to achieve social distancing and the increase in volume of student drop-off and pick-up due to COVID-19, school start and end times have been temporarily adjusted.
---
Student Attendance
Staff and student attendance and reasons for absences will be actively monitored and tracked in order to identify any trends that would suggest spread of illness, such as COVID-19. Watertown's current coding system for absenteeism in our student information system platform (Powerschool) will be modified and will include a code for COVID-19. Each building administrator along with the school's Containment Response Team will frequently review attendance data to identify students who are missing too much school in order to determine root causes for absenteeism and reverse the pattern of absenteeism. Effective tiered interventions will be put into place as necessary. Attendance will be monitored across the three return to school scenarios (e.g. In-Person, Hybrid and Remote Learning Models).
---
Masks/Face Coverings
All K-12 students and staff must wear a cloth, paper or disposable mask/face covering that covers the nose and mouth when inside the school building. Although pre-k students are not required to wear masks in their classrooms based on guidance from the CT Office of Early Childhood (OEC), pre-K students will be expected to wear masks while in the halls. Students should plan to bring their own mask to school. In the event that a mask is lost or forgotten, the school will provide a disposable mask for that day.
Students and staff are required to wear masks in order to trap droplets that are released when the wearer talks, coughs or sneezes. Wearing masks will help reduce the spread of the virus by people who have COVID-19 but don't realize it. We recognize that a very small number of students may have a medical condition that makes mask-wearing unsafe and need to request an exemption. In order to be exempt from wearing a mask, parents must submit a doctor's note to the school principal and nurse specifying the health concern by August 24, 2020. In order to maintain a safe learning environment for all students and staff, we encourage families to consider choosing the voluntary remote learning option for their child if their medical condition prevents them from wearing a mask.
Masks/Face coverings must:
Be cloth, paper or disposable and can include multiple layers of fabric
Cover the nose and mouth when inside the school building
Fit snugly but comfortably against the side of the face
Be secured with ties or ear loops
Allow for breathing without restriction
Be able to be laundered and machine dried without damage or change to shape
Mask Breaks:
Masks will not need to be worn outside, when eating or when participating in PE. Social distancing will be increased during these times.
Students will be provided with mask breaks throughout the school day based on the following guidelines:

Elementary - three breaks per day: mid-morning, lunch (including recess), mid-afternoon (snack time can be used);
Middle School - two additional breaks in addition to lunch;
High School - students may take mask breaks outdoors at passing time and during lunch

Classroom teachers will develop age/grade appropriate practices that ensure the following:

Students are facing the same direction
Students are not engaged in discourse during a mask break
Students are six feet apart from any other student also taking a mask break
Families are encouraged to follow the CDC Guidelines for Washing Face Coverings after each use. Click HERE for tips to help your child get used to wearing a mask/face covering.
---
Bus Expectations
Students and drivers must wear face coverings that completely cover the nose and mouth while entering, exiting and riding the bus. Upon entering the bus, students will fill seats from the back row to the front. Upon exiting, students must unload from the front to the back. These procedures will be explicitly taught and reinforced with students. Drivers have been trained in health, safety and sanitizing protocols. Bus drivers will sanitize all seats and high touch areas between runs in accordance with the CDC Guidelines for Disinfecting Transport Vehicles.
---
Cohorts
In accordance with state requirements, elementary and middle school students have been assigned to specific cohorts, or groups of students. A cohort is a stable group of students and educators with consistent members that stay together throughout the school day to help mitigate the risk of spreading the virus. The classroom cohort will spend as much of the day together as a group as possible with a single teacher or with teachers of different subject areas meeting the cohort in the cohort's assigned classroom(s).
Elementary School:
Each student's classroom or homeroom is their cohort and students will remain with this group for the day. Small group or individual pull out instruction will be permissible for services and/or intervention with appropriate sanitizing between groups and adherence to social distancing guidelines. Logs for pull out instruction will be maintained for the purposes of contact tracing.
Middle School:
Each grade level team has been divided into five cohorts and students will remain with this group for the day. In some instances, students may belong to a second cohort for Unified Arts. When possible, teachers will switch classrooms versus students. Small group or individual pull out instruction will be permissible for services and/or intervention with appropriate sanitizing between groups and adherence to social distancing guidelines. Logs for pull out instruction will be maintained for the purposes of contact tracing. Since elective classes in 8th grade makes cohorting more of a challenge, 8th grade students will follow the hybrid learning model for the first quarter of the school year to allow for increased social distancing.
High School:
While cohorting is not feasible at the high school level because of the variety of classes students take, the daily schedules will reduce the number of times students move around the school. To increase social distancing, high school students will follow the hybrid learning model for the first quarter of the school year.
---
Spacing of Seating
Classrooms and all other instructional spaces across all PreK-12 schools have been redesigned to maximize social distancing between desks, work stations and teacher proximity to students in accordance with the guidance provided by the CSDE. Additionally, some spaces within the school, including areas outdoors, weather permitting, have been repurposed for instruction.
In the event of the need for reduced class sizes, the classroom layout will remain the same, but students will be spaced further apart, capitalizing on the use of empty desks.
---
School Schedules
Each school has developed a master schedule that maximizes social distancing, allows for frequent hand washing/sanitizing protocols and the disinfecting of shared spaces, equipment and materials. For example, additions to master schedules may include staggering passing times and adding additional minutes between classes for sanitizing.
---
Foot Traffic Patterns
Each school building has floor markings to limit face to face passing in the hallways. Additionally, specific doors have been designated for entering and exiting. Hallway supervision has been increased to assist with keeping traffic moving in the hallways.
---
Bathrooms
Bathroom assignments have been designated in all schools based on proximity to instruction and cohorts, when applicable. Additionally, plans have been put into place to maximize social distancing, including signs and floor markings. A specific bathroom has been designated for the sole purpose of use by any staff or student sent to the Isolation Room due to the onset of COVID-19 like symptoms within the course of the school day.
---
Cafeteria Procedures
School principals in collaboration with the Director of Food Services have developed school-based plans for age and school appropriate meal distribution based on social distancing, physical location, student traffic and space availability. Several options have been explored and utilized dependent upon these considerations. These include but are not limited to:
Keeping students in cohorts for lunch in Grades K-8
Additional lunch waves to separate classroom cohorts
Staggering cafeteria use throughout the late morning/early afternoon
Increasing the number of meal service access points
Serving meals in the cafeteria and then returning to classrooms or alternate locations
Serving meals in classrooms and alternate locations
Separating cohorts from each other in the cafeteria or other spaces
School cafeteria and meal service plans will be adjusted based on level of concern of transmission. There will be no self-service buffets for food and condiments. Food service staff will wear face masks and face shields. Tables will be sanitized between lunch waves in accordance with CDC cleaning protocols. If meals are provided in classrooms or alternate locations, sufficient trash removal and cleaning will be in place.
---
Recess
Each school principal has created a schedule for recess that includes supervision and ensures physical distancing to the highest extent possible. Recess equipment will be sanitized prior to recess waves and students will wash or sanitize hands before and after recess.
---
Signage
Clear signs and messages, utilizing words and visual cues, related to stopping the spread of COVID-19 have been strategically placed in all school buildings and are readily accessible to the diverse school population.
---
Cleaning & Sanitizing Protocols
Consistent cleaning and sanitizing protocols beyond routine cleaning have been developed utilizing the Department of Public Health Guidance for Cleaning and Disinfecting Schools. Areas needing cleaning followed by disinfection have been identified, such as high touch areas. All school bathroom surfaces will be cleaned and sanitized twice daily. Full school deep cleaning will take place over the weekend, and should we migrate to a Hybrid Learning Model, on Wednesdays as well as the weekend. In addition to cleaning schedules, cleaning and disinfecting products effective for removing the COVID-19 virus from hard surfaces have been identified, inventoried and procured if needed.
---
High Touch Surfaces, Shared Materials, and Shared Equipment
Specific cleaning schedules and protocols have been developed for spot cleaning high touch surfaces and shared materials and equipment throughout the school day as well as at the end of each school day. This refers to hard surfaces indoors that are routinely touched by different individuals. Examples may include but not limited to desks, chairs, doorknobs, countertops, soap/paper towel dispensers, doors within toilet stalls, toilet handles, physical education/recess equipment, Technical Education equipment, handrails, door knobs and light switches.
---
Supplies
The Director of Facilities and Business Manager have collaborated to provide adequate supplies for use in each school building, including but not limited to soap, paper towels, tissues, disinfectant wipes, extra disposable masks and other specialized PPE for pertinent staff. All cleaning products purchased by schools are effective in removing the COVID-19 virus and are in compliance with the Connecticut School Green Cleaning Law. Products for disinfecting have been selected from the Environmental Protection Agency's List N. Additionally, each school building has been fitted with numerous hand sanitizing stations strategically placed throughout the school/in classrooms in collaboration with building principals.
---
Training for Safe Cleaning & Disinfecting
Custodial or other staff performing cleaning have been appropriately trained on how to properly use, store, label, transfer, and dilute (if appropriate) the specific products being used at each facility. Some examples include but are not limited to the following:
The manufacturer's instructions about how to apply disinfectant products, including dilution instructions must be followed for the cleaning/sanitizing process to be effective.
The disinfectant must be left on the surface for the amount of time stated on the label (also known as the "contact time").
Disinfected surfaces must be given time to air dry. Fans or other mechanical means to shorten product drying times are not permitted.
When an EPA List N Product stating that it is both a cleaner and disinfectant is utilized for the purpose of disinfecting, it will be used twice: First, to clean the surface and then a second time to disinfect after allowing time for air drying.
---
Hygiene & Hand Washing
Ample hand washing and sanitizing opportunities for students and staff in accordance with CDC guidance will be provided. Additionally, hand washing and hand sanitizing training will be provided utilizing the CDC's Recommendations for When and How to Wash Hands.
Hand Washing:
Wet your hands with clean, running water (warm or cold), turn off the tap, and apply soap.
Lather your hands by rubbing them together with the soap. Lather the backs of your hands, between your fingers, and under your nails.
Scrub your hands for at least 20 seconds. Need a timer? Hum the "Happy Birthday" song from beginning to end twice.
Rinse your hands well under clean, running water.
Dry your hands using a clean towel or air dry them.
Hand Sanitizing:
Apply the gel product to the palm of one hand (read the label to learn the correct amount).
Rub your hands together.
Rub the gel over all the surfaces of your hands and fingers until your hands are dry. This should take around 20 seconds.
Frequency:
Before, during, and after preparing food; caring for someone at home who is sick with vomiting or diarrhea
Before eating food
Before and after treating a cut or wound
After using the toilet; changing diapers or cleaning up a child who has used the toilet
After blowing your nose, coughing, or sneezing; touching an animal, animal feed, or animal waste; handling pet food or pet treats; touching garbage
---
Water System
Watertown Public Schools under the direction of the Facilities Director utilized the DPH Return to Service Guidance for Building Water Systems to build water systems which have not been utilized for a prolonged period of time as a result of the prolonged school shutdown in spring 2020. This six-step protocol has been strictly adhered to.
---
Communication
Watertown Public Schools will use multiple communication methods to share information about any new policies and/or protocols prior to reopening, any time there is a significant policy change, and upon re-entry if a school closes temporarily during the year. Updates will be shared weekly from the school and/or district, and detailed information will be sent from the Superintendent's office any time critical information regarding policies, protocols, or health data changes. In addition to email, phone calls, social media and text messages, all updates will also be posted on the district website. Messages posted on the district website can be translated into Albanian, French, Italian and Spanish by clicking on the drop-down language menu.
Communicating Positive COVID-19 Cases:
If we are notified that a student, faculty or staff member tests positive for COVID-19 who has been in a school previous to testing positive, we will notify members of the school community, engage with the Torrington Area Health District (TAHD) in contact tracing and quarantine individuals as necessary. Additionally, we may implement a short-term closure (2 to 5 days) of that school(s) for deep cleaning if needed and a required consultation with the TAHD. The short-term closure will provide the TAHD time for contact tracing and an opportunity to assess the impact in the school and/or district. Any decisions about a return to school will be made by the school district only after consultation with the TAHD.
In order to maintain the health and safety of our entire community, it is imperative that families immediately notify the principal when family members have been exposed to or contracted COVID-19. Likewise, it is also imperative that staff members immediately notify their supervisors when family members have been exposed to or contracted COVID-19. The district will not release the name of any individual who tests positive and will maintain HIPAA confidentiality and privacy requirements and in consultation with and guidance from the TAHD. We will, as noted above, work with the health department in making determinations about who must be quarantined if necessary.
---
Monitoring of Symptoms
Watertown Public Schools will monitor the level of transmission of COVID 19 with the assistance of the Torrington Area Health District. Watertown will continue to operate with 100% capacity as long as there remains to be little or no community transmission. School schedules and/or protocols may be adjusted if the community enters a "yellow" or moderate transmission risk. Should there be a substantial surge in local cases, based on guidance from the State of Connecticut and/or the Torrington Area Health District, Watertown Public Schools move to a full Remote Learning Model.
---
School Cancellations
Any decision about school closure, reopening, or cancellation of school events will be made by the Superintendent in coordination/collaboration with the TAHD, Medical Advisor and CDC guidance. If schools are closed, the Superintendent will notify and consult with the CSDE immediately. Decisions about the geographic scope (e.g., a single school, multiple schools, or the full district), whether it will be partial or total, and duration of school closure will be made on a case-by-case basis using the most up-to-date information about COVID-19 and the specific cases in the community.
In order to guide decisions on remote vs. in-person learning, the CT Department of Public Health and Department of Education have developed key metrics and considerations for informing local district decision-making. These metrics include the leading and secondary indicators of COVID-19 infection levels in the community below: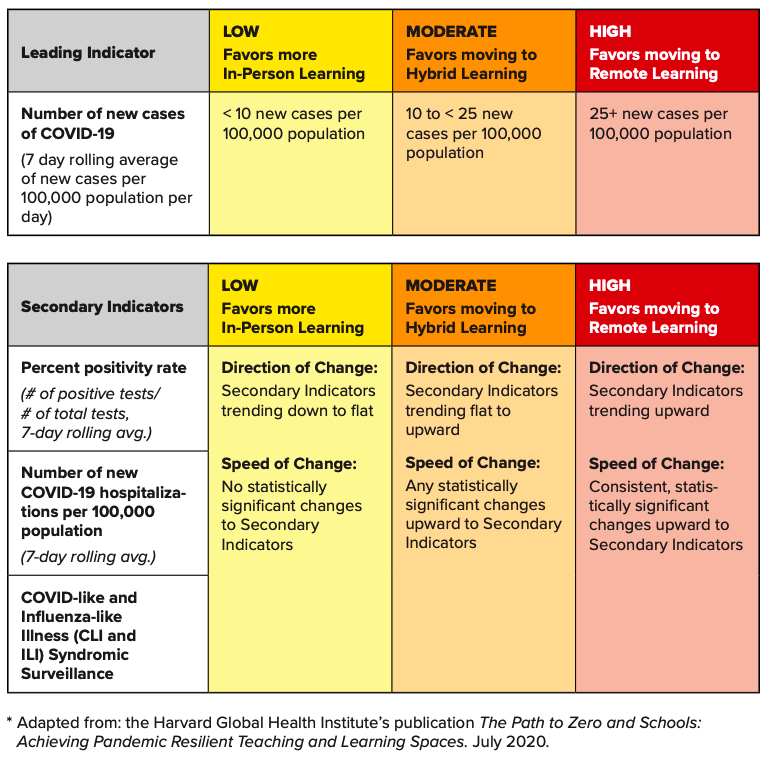 Leading and Secondary Indicators will be updated by DPH on a weekly basis and shared with the Superintendent. Representatives from the State Departments of Education and Public Health and local health departments will review the data on a weekly basis and make any recommended changes between the Low, Moderate and High categories by county each week.
While leading and secondary indicators provide information regarding the level of COVID-19 spread in the community, there are also many structural and procedural considerations within the district and individual schools that will be assessed on a continual basis, as these may also influence whether schools should consider more in-person, hybrid, or remote instruction.
If schools close, instructional materials will be made available to allow for school sessions to continue remotely. During school closures, all extracurricular activities, athletics, and school-based after school programs are cancelled.
---
Visitors in the School
Access to the buildings by visitors/families will be extremely limited and only for specific educational purposes. Each school will post a "No Visitors" sign to notify the community that visitors will not be permitted into school facilities unless scheduled to enter, required by law, or otherwise required by a student's individualized educational plan.
Visitors with prior approval to enter the building will be instructed to self-screen before entering the school by checking to ensure temperatures below 100.0 degrees Fahrenheit and to observe for symptoms consistent COVID-19. Visitors should stay at home if they are feeling sick, have any symptoms associated with COVID-19, or have had close contact with a person diagnosed with COVID-19. Each school's Main Office will maintain a log for those visitors allowed into the building to facilitate contact tracing. The log will include name, contact phone number, and arrival/departure time of each individual.
---
Utilizing School Buildings Before & After School
The Superintendent or designee will review all requests for use of the schools – before and after school. There will be limited access to outside organizations' use of school sites and schools' resources after school hours to allow adequate time for cleaning and sanitizing. Community organizations (including those that sponsor before- or after-school childcare) that are allowed the use of the facilities will be required to follow the district's health and safety plans, as well as the expectations of local health officials.
---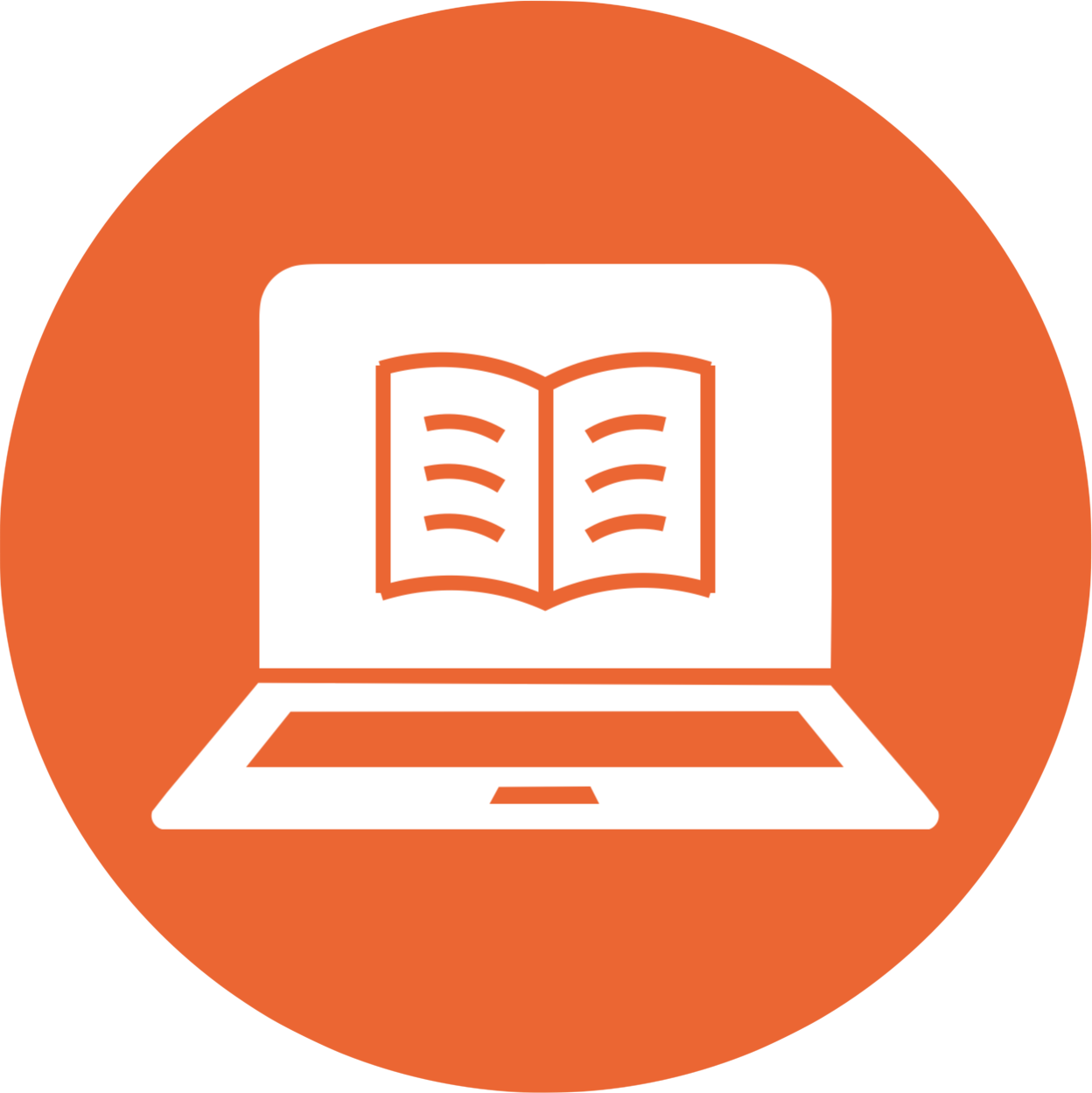 Instructional Delivery
Assessment
Watertown Public Schools is committed to addressing the needs of all students. Therefore we will utilize the CSDE Sensible Assessment Practices included in the re-entry guidelines. The intention is to ease students back into school, maximize instructional time and minimize testing time while simultaneously empowering teachers to efficiently use student data to drive instructional decisions. Prior to the start of the school year, vertical teams of school staff will meet to review existing student information and assessment results as a starting point in identifying and addressing students' needs. Fall Benchmark Assessments will strategically be administered with careful thought given to reducing testing anxiety and fatigue. This will help us to develop a baseline and create a thoughtful action plan for instruction. Teachers will likewise utilize multiple assessment techniques including observation and conferencing during the first unit of study specifically designed to reacclimate students and reduce additional formal testing.
---
Reacclimating Students
The first unit of study in each class/course has been thoughtfully designed to simultaneously build community. Additionally, the intention is to engage students and to ensure a high probability of success. Although this unit will be on grade level, opportunities to revisit important prerequisite standards from the previous grade/course have been embedded. Teachers will likewise build class norms and routines through engaging activities. Teachers will seize this opportunity to get to know their students' various needs, beyond the academics.
---
Social & Emotional Learning
Watertown Public Schools has adopted RULER as its structured framework through which students and staff understand and manage emotions, set and achieve positive goals, feel and show empathy for others, establish and maintain positive relationships and make responsible decisions. Teachers will begin the year with a focus on establishing classroom communities through the creation of a Charter.
---
Instructional Materials
Plans have been created across all schools to avoid the sharing of instructional materials and equipment. For example, the district has adopted a 1:1 Policy for Chromebooks. Additionally, special consideration has been given to Specials, Unified Arts and Electives, as these courses tend to require multiple students utilizing the same materials or equipment. When possible, additional materials have been purchased, such as individual art kits. For the times when equipment must be shared, a specific cleaning schedule has been created in each school building to ensure sanitizing between student uses. For example, physical education equipment being used for two consecutive classes would be sanitized between in accordance with CDC Guidelines. Each school has developed a plan for instructional materials to be available to students in the event of an immediate shutdown. These plans will be communicated at the school level.
---
Music
During the COVID-19 pandemic, it is essential for Connecticut schools to maintain challenging and rigorous programs of study in the arts across all grade levels. However, for the safety of our staff and students, music instruction in the fall of 2020 should consider transformational practices. All schools will implement CSDE guidelines for General Music, Choral, and Instrumental Instruction.
Students will have full access to music instruction, including beginning instrumental music. Additional safety practices have been planned for in each school building to ensure safety and well being, such as the use of larger spaces and smaller groups for instruction to fully maximize social distancing. Additionally, safe instrument handling protocols derived from the National Association for Music Education's COVID-19 Instrument Cleaning Guidelines will be taught to students and consistently utilized.
Performances may take place in compliance with local/state guidelines for social gatherings. The State of Connecticut Phased Reopening Plan and local health officials will determine if events are permitted. Events should not exceed the limitations of the State Phased Reopening Plan.
---
Special Education
Students with disabilities will be included in all re-entry plans and will have access to intervention and recovery learning opportunities afforded to students without disabilities as appropriate. Assessment will be made of each student's individual ability to access these activities. Individualized plans will be developed based on student need, present levels of functioning, developmental levels, student/family input and with consideration to health and safety.
---
Remote Learning
Watertown Public Schools, under the direction of the Director of Curriculum and Instruction, is developing a high-quality and equitable remote learning model designed to engage students in synchronous learning activities. The model builds upon promising practices and lessons learned from distance learning this past spring. It also addresses community feedback received from students, staff and families regarding the need for an increase in "live" instruction. and includes sample schedules that will allow students to be engaged in synchronous learning. In our remote learning model, the student day is organized around regular synchronous learning (approximately 75% of the day) to promote active learning and flex time–time that can be used flexibly by instructional staff to meet student needs and provide feedback. Each student will have access to a device that will be utilized for all three instructional models (In-Person, Hybrid and Remote). Information regarding the distribution of devices and will be shared at the start of the school year. Prior to the start of the school year, staff will receive professional learning related to using digital tools and our remote learning model. The decision to shift to remote learning will be made by the Superintendent in coordination with the Torrington Area Health District based on relevant health data.