Alison Villanueva, Ph.D.
Superintendent of Schools
Dear Watertown Faculty and Families, Friday, February 19, 2021
This message outlines upcoming shifts to the 6-12 learning model below. In the coming days, you will receive additional information from your child's school as we prepare for next week. The current PreK-5 model will continue on as usual as we continue to see the success and benefits of having our students back fully in person.
Sincerely,
Dr. V
Happenings and Useful Information
Grades 6-12 School Status
Each week and everyday, several factors are monitored and considered to guide the Watertown Public Schools in making safe and important decisions for our students, families, faculty, and staff. Everything from COVID rates and trends (State, Local, and District); school space and environment; input from stakeholders; guidance from CDC, DPH, and CSDE; and many more.
Downward Covid Trends
All of these factors shift and change daily; sometimes hour by hour. Over the last few weeks, overall COVID data has started to flatten and trend downwards. Covid data for the Watertown community in particular has been trending downwards for the past 3-4 weeks in relation to % of secondary positive cases. In addition, all of the mitigating strategies we've been enforcing in our schools has allowed us to keep our students at the Pre-K-5 level fully in person since the middle of January. Attached is the CSDE's Addendum 4 Updated Guidance for Decision Making Regarding Learning Models
Returning to In Person Learning
Based on the factors mentioned above, the Watertown Public Schools will be encouraging and welcoming our secondary level students to return to school in person over a phased period of time. Phasing in our students provides time for families and faculty to make use of this coming week to prepare for this adjustment.
Administrators at Swift will be reaching out with important updates over the next few days. Items such as updated schedules, protocol reminders, etc.

Administrators at WHS will be reaching out with important updates and detailed information over the next week on 'how to opt in during specific weeks', updated schedules, etc.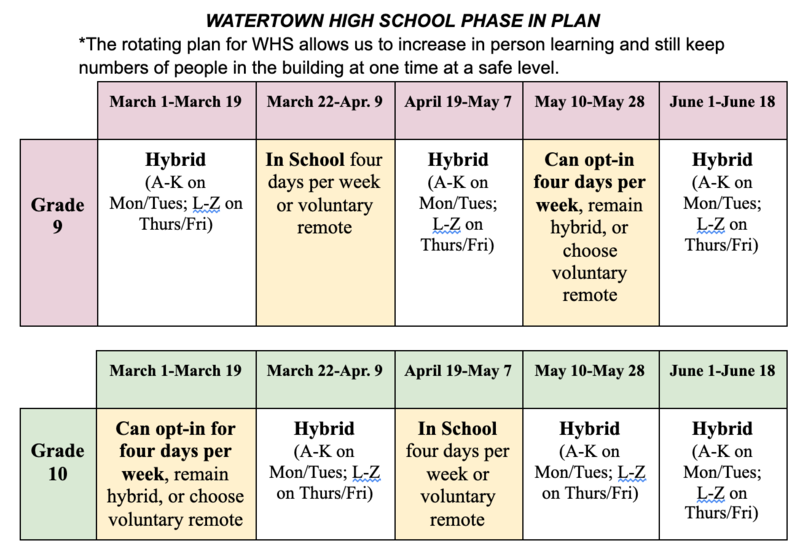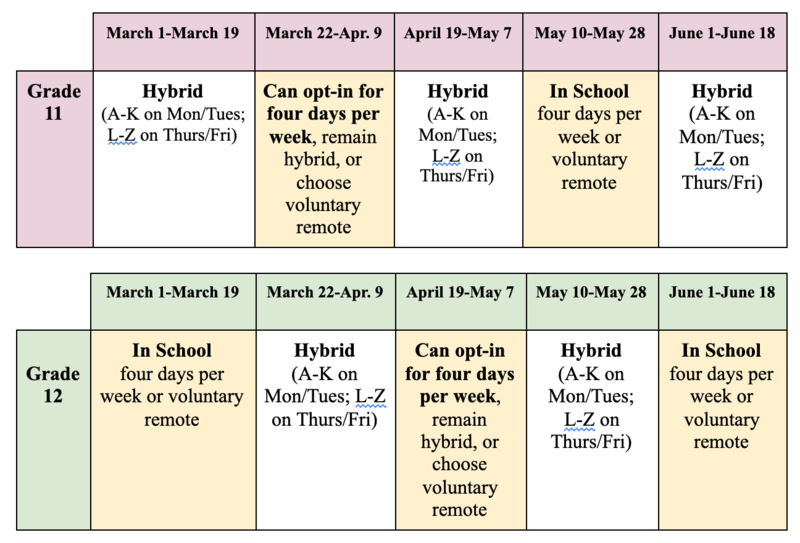 What about Wednesdays?
Wednesdays will remain a remote half day for grades 6-12 students and faculty for the custodial and maintenance staff to complete deep cleaning Cleaning Guidance in the building and for faculty to engage in collaborative planning. PreK-5 students will have be in person on an early dismissal schedule.
What if our Covid numbers increase again?
Although a phased approach of return is outlined, at any given point in time if we experience spikes in our COVID data, we will follow all of our mitigating practices to contain cases, quarantine and contact trace. As always, if the learning model needs to adjust, we will address those changes each week and on a case by case basis.
Can I Choose to Attend In Person If I've Been Remote All This Time?
Students and families who voluntarily chose to remain remote this year are encouraged to return to school fully in person during this phase in time. The benefits of engaging with peers, teachers, and an in person learning environment positively impacts our students both academically and social emotionally. Additional information will be shared with families in the next few days.
How About Social Distancing?
Based on guidance from the CT State Department of Education, we will continue to maximize social distancing between student workstations, achieving 3 to 6 feet when feasible, when determining the classroom layout. The facilities team have already started to measure rooms again to set up a safe learning environment. The State plan and guidance on social distancing can be found here: Adapt, Advance, Achieve Plan.
We are committed to having our students return to our buildings and excited to see continued downward trends in Covid data for our district and community. More information will follow from specific school buildings prior to next Thursday.
---------------
Health and Safety
Drive -Thru Covid Testing
On Saturday Feb. 20, drive thru testing will be made available to the community at WHS. No appointments or insurance necessary! Results ready in 48 hours.
Click the link for flyer Drive Thru Testing at WHS on the Weekend
Board of Education Update
On Monday, February 22, 2021, the Board of Education will discuss and vote on the 2021-2022 Proposed Superintendent's Budget. You can find the budget presentation here. Don't forget to tune in! Click Here for BOE Live Streaming
Quote of the week
"The happiest people are those that do the most for others" ~ Booker T. Washington