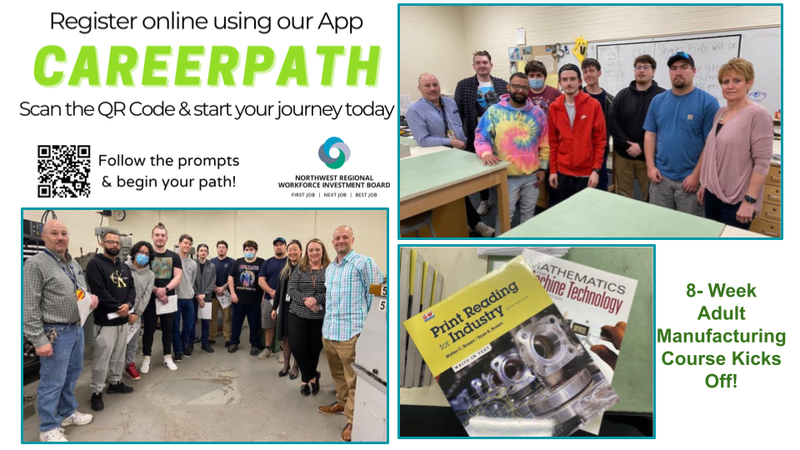 The Watertown Board of Education, Town of Watertown, and Northwest Regional Workforce Investment Board (NRWIB) partnership to offer evening courses in manufacturing at Watertown High School for local and surrounding community members 18 years of age or older kicked off on March 15, 2022 at Watertown High School, this week!
The Department of Economic and Community Development is committed to creating a 'Stronger Manufacturing Workforce' and approximately 3,000 new jobs in the State of CT where there is a major shortage of skilled workers across industries.
After the first cohort of participants completes the 8-week winter program, Watertown Public Schools administration will review their options to consider how these same courses that lead to the programs listed below can be offered to students in their 11th and 12th year during the regular school day.
Training programs include (but are not limited to):
Introduction to Manufacturing

Introduction to Machinist

Fundamentals of Manufacturing Technology

Engineering Drawing Specifications

Manufacturing Process/Precision Machining
"If students can complete courses and earn a certificate or skill that will land them a paying job right after graduation; or advanced credits that can be put towards a postsecondary degree so they are a few steps ahead when they start college, we want to make those opportunities possible for students," said Villanueva.
Program Start Date: March 15, 2022
Weekly Class Schedule: Tuesday, Wednesday, Thursday classes will take place in the evening at WHS. Saturdays will be a full day of class at Naugatuck Valley Community College in their new shop facilities.
Program Length: The entire program runs for eight (8) weeks
Cost: No cost or subsidized tuition dependent on candidates status
How to Apply:
Potential participants interested in learning more and/or applying for the program are encouraged to contact Steve.Gray@NRWIB.org,
Phone: (203) 574-6971 x464