Watertown High School - Connecticut High School Fine Arts Award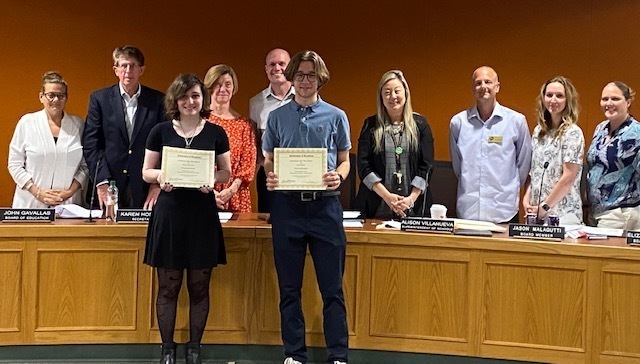 The Watertown Board of Education would like to recognize the following seniors from Watertown High School who received the Connecticut High School Fine Arts Award. Students must excel in the performing or visual arts and possess the qualities of scholarship and leadership in their respective field.
• Keith Acuna
• Jillian Veronneau
CAS-CIAC Scholar-Athlete Award
The Watertown Board of Education would like to recognize the following two high school seniors who received the Scholar Athlete Award. These students have excelled in their academic and athletic careers.
• Torri Distefano
• Evan Smutney
Unified Sports Recognition and Awards - Ann Malafronte Rookie School of the Year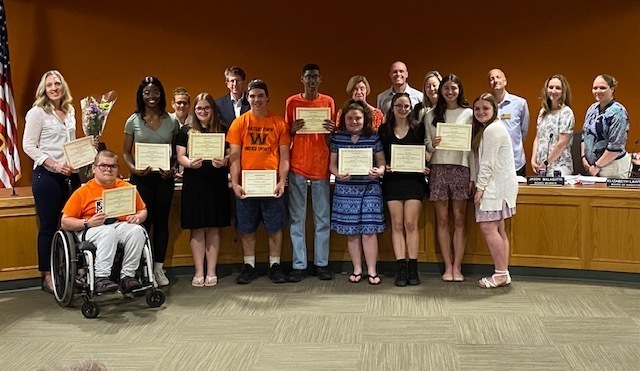 Congratulations to Watertown High School
Watertown High School was named the 2021-2022 Ann Malafronte Rookie School of the Year by the Connecticut Association of Schools and Special Olympics Connecticut. The Rookie School of the Year Award is presented to a school with a new Unified Sports program that has "gone above and beyond to make this year special for athletes, partners, parents, and school personnel." Watertown High School Unified Sports has participated in tournaments with schools from across the state during the fall, winter, and spring seasons. The team is coached by Beth Wolf and Kristen Bates. Students representing the team are: Makenzie Kish, Morgan Kish, Kristina Kyle, Thomas MacLean, Travis Williams, Jordan Williams, Priscilla Adebambo, Ella Makowski Giana Desena, Greg Collins, and Rielle McNeil
George Synnott Middle School Coach of the Year

Congratulations to Swift Middle School
Swift Middle School is incredibly proud to announce that the coach of our Unified Sports Team, Mr. Richard Peronace, was awarded the George Synnott Middle School Coach of the Year by the Connecticut Association of Schools and Special Olympics at a ceremony on April 25. Rich has devoted so much time and effort in his pursuit of creating and maintaining the Unified Sports Program at Swift and making the team the success it is today. The team has expanded this year both in the number of participants as well as the number of events the athletes participate in. This award could not be bestowed upon a more deserving recipient.

At the Unified Sports Awards Ceremony, Abigail Dubail and Jordyn Pelletier were recognized and presented plaques for receiving the Mike Savage Teammate Award. Congratulations to both of them. Congratulations to Rich and his team!!
Board of Education Student Council Representative Recognition
Evan Davidson has served as the 2021-22 student representative to the Board of Education. Evan possesses a deep interest in the field of education, and he plans on majoring in Secondary Education and English at the university level. One of his career goals is to instill a love of reading in students through the various selections he would like to teach in the classroom. He is also interested in sharing the many wonderful happenings in our five schools with the Watertown and Oakville communities during his student Board reports. Evan contributes to Watertown High School in many ways. He participates in a wide variety of co-curricular activities, including as a four-year member of the Fall Play and Spring Musical casts with lead roles each year, the National Honor Society, the select Chamber Choir, the Tri-M Music Honor Society, the Interact Club, and the Leo Club. Along with keeping a challenging course load, maintaining excellent grades, and participating in school activities, Evan works at Labonne's part-time to earn spending money and to save for his education. We will miss you at the Board table Evan!