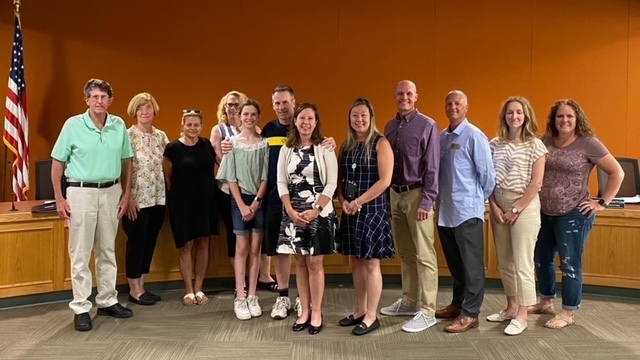 Photo L to R: Board of Education Members welcome Ms. Phelan and her family.
Press Release
Watertown Board of Education Welcomes New Member Cindy Phelan
Watertown, CT - July 26, 2022 - It is with great happiness to welcome Ms. Lucinda Phelan, better known as Cindy, to the Watertown Public Schools Board of Education. Ms. Phelan grew up in Watertown, CT with her family and after a short move to Bristol returned to the Watertown community to raise her family. She, along with her husband Dennis, who is a police lieutenant in Waterbury, and daughter Amelia, are going on 13 years as part of the Watertown Community fabric. Since her daughter started preschool at John Trumbull Primary, Ms. Phelan jumped in as a parent volunteer and then quickly became the JTPS PTO secretary. In the years to follow, Ms. Phelan moved to Judson as the PTO secretary then president and she is currently going on her second year as the Swift PTO president. Ms. Phelan is not new to volunteering. She has served organizations like WAYZ soccer where she coached for her niece's team; or at Fox Crossing an equestrian center where she is a parent volunteer; and the Girl Scouts, where she has been a co-leader since her daughter was in Kindergarten.
Ms. Phelan is very fond of the Watertown community's close-knit feel where everyone knows one another. She not only finds great pride in seeing her daughter grow but all of the students of the Watertown Public Schools blossom year after year.
Ms. Phelan is passionate about her new role on the Board of Education. She is looking forward to learning and is ready to provide insights into promoting Math/Science/STEM opportunities. Her continued journey through the Watertown Public Schools these past 13 years has encouraged her to try and create more opportunities for parent involvement. She is keen on how the Board of Education and the schools all work together as a team to provide the best education for all kids and that's how she would like to continue making an impact for the children of Watertown.
Ms. Phelan is currently the Deputy Director of the only Forensic Science lab in the State of Connecticut. She earned her Bachelor's of Science in Molecular and Cell Biology from the University of Connecticut; her Masters of Forensic Science from the University of New Haven and she teaches at the higher education level at the University of New Haven, Post University and Naugatuck Valley Community College (NVCC).