Dear Watertown Public School Families, August 26, 2022
The Returning Student Form in the PowerSchool Parent portal for each family, new or veteran is now open to all Watertown Public School student residents. This form helps our district:
Confirm and/or update family contact information, including the identification of which contact should be labeled with the priority of 1, also referred to as Guardian 1. (Guardian 1 is who information is sent to in the rare instances when only one link or form per family can be sent.)

Confirm and/or update demographic information and annual medical information

Electronically sign all other required annual forms
Please note, we have updated all student handbooks to reflect the State approved CT Association of Boards of Education (CABE) Handbook template. Handbooks are helpful tools to educators, students, and families. They outline important policies, basic guidelines/rules, and can answer a number of frequently asked questions. In addition, all parents/guardians are required to acknowledge they have read the handbook and discussed its contents with their child in Powerschool via an electronic sign off. This sign off has been updated and will be monitored by Central Office to ensure everyone has completed their part in acknowledging our updated handbooks.
Please update and complete a Returning Student Form for each of your students by September 9, 2022. On average it will take 10 minutes or less per child. Please note: If your physical address has changed from what is Powerschool, you must update that information with your school directly and provide proof of residency.
Directions
Use the PowerSchool Parent Portal to access the Registration. To begin, one family member with a PowerSchool login needs to sign in to the PowerSchool Parent Portal at (The student side of the portal will not have access.)
Visit the PowerSchool Parent Portal login page for your school and click on the PowerSchool Parent Portal icon. From the Parent Portal:
1. Select the student you wish to register along the top
2. Click on the "2022-2023 Returning Student Registration" icon in the left menu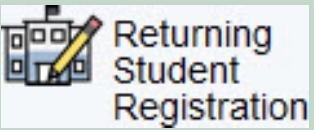 3. Agree to the terms and conditions
4. Click Begin Forms
Please note: Once one family member starts the form, it is not available to anyone else. The same family member must complete the form.
FAQ
I can't remember my login for the PowerSchool Parent Portal.
If you aren't able to retrieve your login credentials using the "Having trouble signing in?" link on the Sign In page, please contact your school directly for assistance logging in to the Parent Portal.
Do I have to answer all the questions?
Questions marked with a red asterisk (*) are required. The returning Student Registration has to be done on a computer not a cell phone.
What if I make a mistake?
If you would like to make a change prior to submitting the form, you can either navigate back to the page using the "< Prev" and "Next >" buttons or if you are on the Review page click on the underlined field. If you have already submitted the form you will need to contact your student's school so they can make the changes for you.
I've completed the form, now what?
Once you have finished entering your information click "Submit." This will send all of the information you've entered to the school. If you cannot click on this button you will need to make sure that you have answered all required questions.
What if I have more than one student in the district? Do I need to do this for each child?
Yes you will need to provide information that is specific to each child. We recommend that you complete and submit one form and then start another. This will allow you to "snap" (or share) selected family information, which saves you time.
Help! I'm having technical difficulties.
For technical support, email DaltonMi@watertownps.org and describe the issue with filling in information/gaining access to the site. We will do our best to get back to you as soon as possible to assist.
Thank you for your participation
All students must be updated by September 9, 2022.