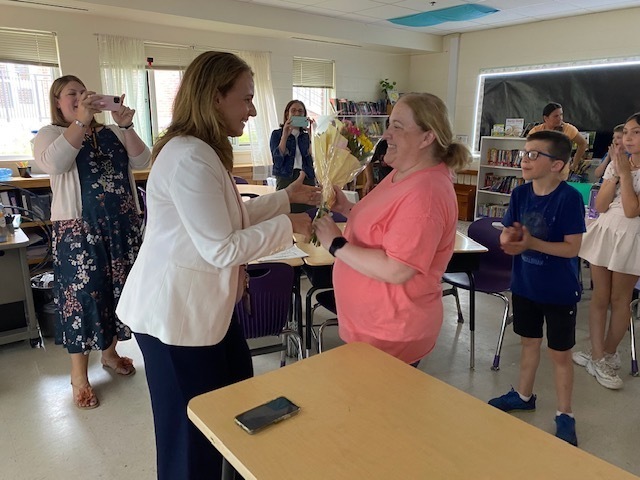 Monday, June 12, 2023
Watertown Public Schools is excited to announce that Ms. Jennifer Mancini has been selected as the 2023-2024 Anne Marie Murphy Paraprofessional of the Year. Ms. Mancini was among 12 paraprofessionals who were nominated by school staff for this distinguished honor. Ms. Mancini was hired on October 17, 2013 and has spent the last 10 (nearly 11) years as a dedicated paraprofessional in the Watertown Public schools. Most recently, she is serving as a Paraprofessional in Polk's RISE program, a specialized social and emotional program where students Reach Independence and Strengthen Emotional Skills.
During her interview, Ms. Mancini shared the importance of patience, kindness, building relationships based on student interests, and communication in her daily work. She spoke about calmness, humility, and knowing the students as being key ingredients of being a paraeducator. These are traits that Jen demonstrates day in and day out in her work in the RISE program.
Ms. Mancini is a shining star at Polk and can always be counted on to go above and beyond in support of the students, and colleagues, she works with. Whether she is patiently explaining how to add fractions with unlike denominators, negotiating an unanticipated schedule change, or shooting hoops with a student during their break time (and not just letting them win!), Jen's passion and unwavering support for the children she serves is evident. Drawing on her training as a Registered Behavior Technician, Ms. Mancini eagerly took on a number of leadership roles this year at Polk and helped guide RISE through several staff changes and served as a mentor to a number of new colleagues, modeling best practices for those just entering the field. Drawing on her immeasurable supply of patience and a calm demeanor, Jen is able to tackle the trickiest situations and is not only successful with the students with whom she works on a daily basis, but is able to apply her repertoire of skills and switch tactics quickly to support other students with differing needs. Above all, Ms. Mancini is a team player who always strives to help her students achieve success. We are so thankful she is part of the Polk Family and the Watertown Team!
Please share in our recognition of this year's paraprofessional nominees:
● Bernadette Bennett (JTPS)
● Lori Birthwistle (WHS)
● April Cummings (JTPS)
● Kim Hailstones (JTPS)
● Katie Kirton (JTPS)
● Pamela Kosloski (WHS)
● Val Klobochista (SMS)
● Rose Mancini (JES)
● Anissa Melendez (JES)
● Kathy Pilecki (JES)
● Nancy Lynne Velezis (PES)
We are fortunate to have Ms. Mancini represent Watertown Public Schools and wish her luck in her application to be considered for the State Anne Marie Murphy Paraeducator of the Year Award.